Back to Blog
Why workplace flexibility matters and 4 ways to offer it
October 11, 2022
- 14 min read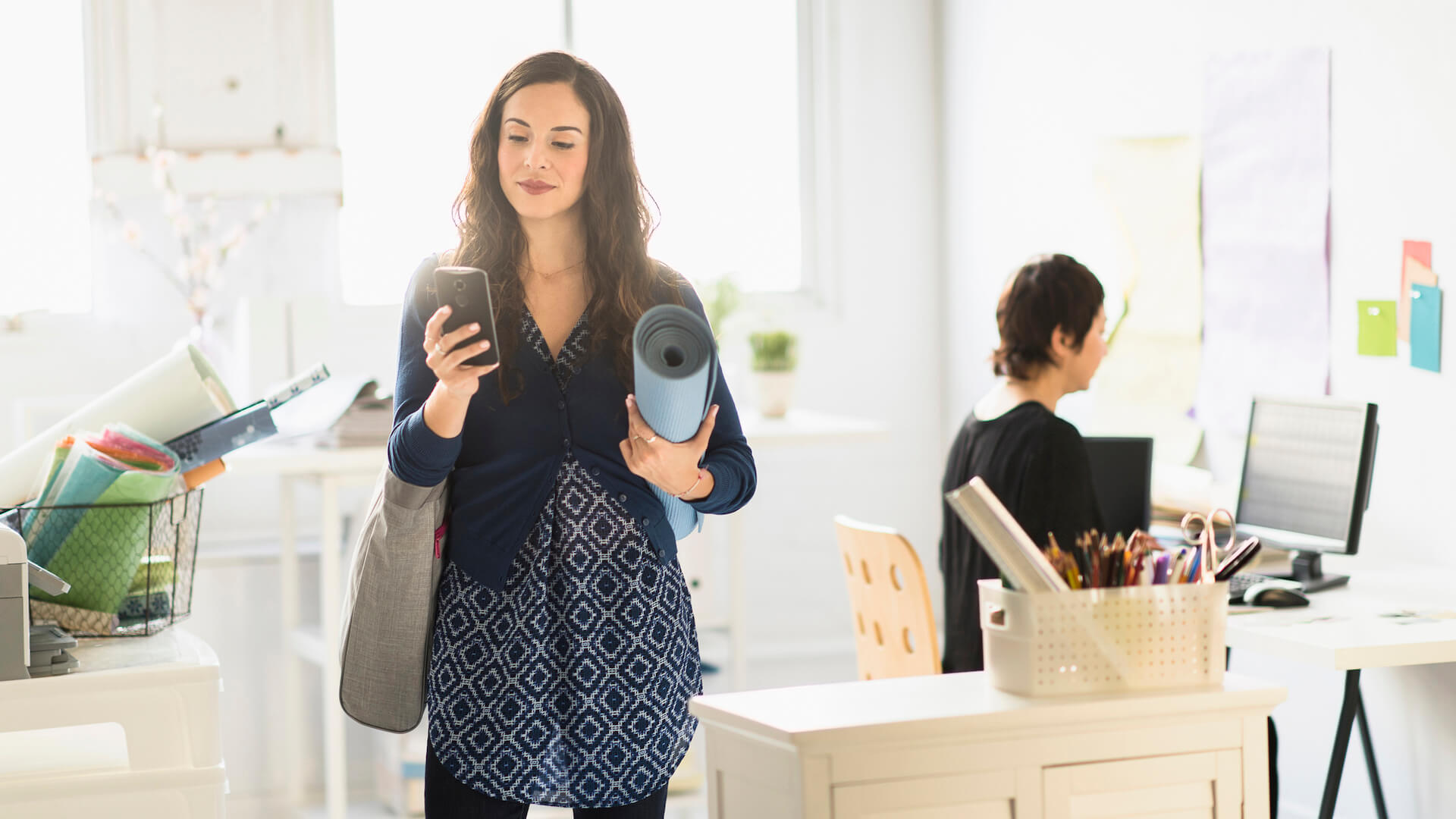 A LinkedIn study of C-level executives in the U.S. and the U.K. shows that 81% are changing their policies to offer greater workplace flexibility.
Why?
Offering flexibility in the workplace is no longer a perk only afforded to cutting-edge startups.
It's now critical to a company's recruitment, satisfaction, and retention strategies.
What is workplace flexibility?
Workplace flexibility includes where, when, and how employees get their work done.
Creating a culture of flexibility in the workplace helps employees meet the demands of their personal lives while maintaining high-performance levels at work.
Workplace flexibility also emphasizes the ability to adapt to changing circumstances and expectations.
What is workplace flexibility?
Workplace flexibility is a culture that prioritizes whole-person well-being by encouraging a flexible approach to work. This includes alternate hours, remote work, and an openminded approach to accomplishing goals.
"Workplace flexibility allows employees to lead full lives outside of work," shares Ursula Mead, Founder and CEO at InHerSight, a company reviews platform for women.
"I don't like to call that work-life balance because it's not consistently balanced. I prefer work-life integration because there's give and take. Sometimes the work of life (doctors appointments, chores, taking care of family, etc.) needs more attention than paid work does. And sometimes, it's the other way around. Flexibility removes the unrealistic, rigid structure that shouldn't have been there in the first place," says Mead.
Informal vs. formal workplace flexibility
Flexibility in the workplace can be either informal or formal.
Informal workplace flexibility is an irregular agreement between an employee and a manager. And it has little impact on others in the workplace.
At Shopify, Lauren Sudworth, Head of Global Content Marketing, offers her team "Duvet Days." They dedicate every last Friday of the month to time off for rest and relaxation. But ask someone in a different department within the company, and they will likely have no knowledge of this monthly ritual.
Formal workplace flexibility is typically an ongoing company-wide policy. In these cases, senior leadership allows employees to move away from traditional work hours or office locations.
In the early days of the pandemic, Shopify announced a shift to "digital by default," allowing workers to work from anywhere permanently.
Let's take a closer look at some examples of workplace flexibility and how to become a more flexible employee and employer.
What is an example of flexibility in the workplace?
Flexible employees
Flexible employees can adjust their approach to a task based on the unique demands of the situation. Examples of employee flexibility include:
Changing your behavior based on constructive criticism received via performance review
Volunteering to take on the responsibilities of a colleague who is on PTO
Shifting your priorities to respond to an urgent problem
Learning to use a complex new software or skill that will increase your productivity
Finding ways to streamline processes to improve efficiency
Adapting to changes in your role, taking on new projects or responsibilities
Training new employees or helping colleagues learn a new skill you've already mastered
Staying up-to-date on industry trends and finding ways to implement your learnings to improve the business
Employees with flexible or growth mindsets benefit from learning new skills in a changing environment. This flexibility ultimately aids their career progression as well as the success of the company.
Flexible employers
Workplace flexibility is also an essential skill for team management.
Managers with flexible mindsets consider the unique needs of each employee. As a result, they provide workers with greater latitude regarding how they accomplish their goals.
For example, one employee may require more direction to complete their job duties. Another may function well with more ambiguity.
Additionally, managers will often need to be flexible regarding scheduling. For example, a member of their team who is a single mother with three kids under five may have different needs than a recent college grad.
A few examples of workplace flexibility from a management perspective include:
Assessing the needs and preferences of individual team members
Offering feedback in the way each employee likes to receive it
Granting time off for caregivers to attend doctor appointments and important family functions
Encouraging creativity and empowering employees to share new ideas
Stating objectives transparently and letting workers figure out the best course of action to achieve them
Creating an environment where employees feel comfortable asking for time off
Rewarding employees for their hard work in a way that motivates them
Flexible work schedules
Workplace flexibility can also refer to work arrangements with flexible schedules. This includes:
Flextime: Employees are able to arrive at and depart from work at a time convenient to them, as long as their work is completed on time.
Telecommuting: Employees can work in a home office, coworking space, or elsewhere. Working from home could be a daily occurrence, done one to several days per week or only during inclement weather. Alternatively, you could implement a hybrid workplace where employees can choose to work at home, in the office, or a combination of both.
Compressed work schedules: There is a growing trend to move away from the typical five-day workweek where each day is 8 hours long. A compressed workweek could look like employees working four 10-hour days, then taking an additional day off during the week.
Reduced work schedules: Consider allowing employees to work less than the standard 40-hour work week. Some may prefer working part-time for 20 or 30 hours per week and spending the rest of the day caring for loved ones at home.
Job sharing: If you have more than one employee who desires a reduced schedule, you could offer job sharing to maintain productivity. For example, instead of having one data scientist who works full-time at 50 hours per week, you could hire two that work part-time at 25 hours each.
9 benefits of flexibility in the workplace
Workplace flexibility has many benefits for both employees and employers, including:
Higher levels of employee satisfaction - A recent report finds employees who are satisfied that their organization does a good job providing work flexibility in terms of time and location are 2.6 times more likely to be happy working at their company.
Lower employee turnover - Employees with high job satisfaction are less likely to leave. Workplace flexibility increases employee retention and decreases the cost of recruiting and training new hires.
Attract top talent - Offering workplace flexibility also helps lure job seekers. The SHRM State of the Workplace study finds that 31% of HR professionals said the greatest challenge to finding talent was limited work flexibility in terms of hours and location. LinkedIn's research backs this up, finding that Generation Z' engagement is 77% higher on company posts mentioning flexibility.
Reduced overhead costs - Employers that permit working remotely may have less need for office space. Some may be able to completely eliminate the cost of a lease, utilities, and a nightly cleaning crew.
Decreased environmental impact - Remote work can benefit the environment. Less commuting to the office means releasing fewer carbon emissions by car, bus, train, etc.
Enhanced creativity - For some employees, inspiration strikes at midnight. For others, it happens before sunrise when their home is quiet, and the kids are still asleep. Give employees the freedom to set their own schedules. Empower them to harness their creative energy more effectively.
Increased productivity - Thirty-eight percent of tech employees see flexibility as a contributing factor to their productivity. This goes along with cutting out commuting time and allowing workers to contribute when they feel most productive.
More support for caregivers - Flexibility in the workplace can be a game-changer for a stressed-out, over-extended employee, or one experiencing caregiver fatigue. Give a parent the ability to work odd hours after their kid goes to bed or take a few hours off to drive their mom to her chemo appointment. It's the little things that can create more loyalty among your employees.
Gender equity - "It's no secret that women do more housework and have more childcare responsibilities than men," shares Mead. "Those responsibilities are work in and of themselves. They contribute to higher rates of burnout among women and a widening gender pay gap. (Women are more likely to switch to part-time jobs or pursue less taxing paid work because they have unpaid labor to prioritize). Flexibility gives women — and all employees — the opportunity to have both families and careers.
How do you improve flexibility in the workplace?
There are many ways to implement more flexibility into your company's culture. Depending on your situation, allowing everyone to work from home or whatever hours they choose might not be feasible. But you can take baby steps toward a less stringent, more adaptable workplace.
1. Start the discussion about flexible work arrangements
The best way to figure out what type of workplace flexibility your employees want is to ask them. Don't assume that everyone wants to work from home. For example, you may find that your developers prefer the quiet of a home office. And your marketing team loves to be in a room together to feed off one another's energy. Or perhaps your employees would rather have unlimited paid time off, a four-day workweek, or more flexible compensation and benefits.
2. Choose the approach that works for you
Be realistic about how much flexibility your workplace can actually offer. For example, if you manage a brick-and-mortar retail store, selling to your customers over Zoom isn't going to fly. However, closing the store early on Sundays might do the trick. Figure out the best way to help your employees without hurting the business.
3. Create a workplace culture of flexibility
Creating opportunities for working more flexibly may not be enough. Studies show that many employees have a workplace flexibility bias. It's a belief that people are unlikely to get ahead if they take time off from work. This bias can negatively affect employee engagement, retention, and well-being.
So, it's critical that employees feel the company is genuine in the desire to improve its employees' work-life balance. Workplace flexibility shouldn't be lip service from the human resources team as a cheap tactic to recruit top talent.
The best way to show and prove is for everyone — from middle management to senior leadership — to practice what they preach. Take regular time off, engage in hobbies outside of work, and prioritize time with family and friends. And make it known publicly. Post it within your Slack status or calendar for others to see. This will help employees feel safe enough to follow suit.
4. Shift your perspective
Mead suggests managers work on shifting their team's mindset from "time in seat" to "deliverable-driven."
Care more about what your team accomplishes than how long they sit at their desks.
"Celebrate the number of tasks done at the end of the month, and use 1:1s to check in with employees," Mead suggests.
Ask, "Did completing X number of deliverables feel achievable, or was it a stretch? And is it sustainable in terms of your mental, physical, and emotional wellness and your other responsibilities?"
When your employees' personal needs are met, they are happier, healthier, more satisfied, and more engaged at work. Flexible work options can go a long way toward increasing productivity as well as your company's bottom line.
Published October 11, 2022