Back to Blog
Unlock your team's superpowers with effective team management
August 25, 2022
- 18 min read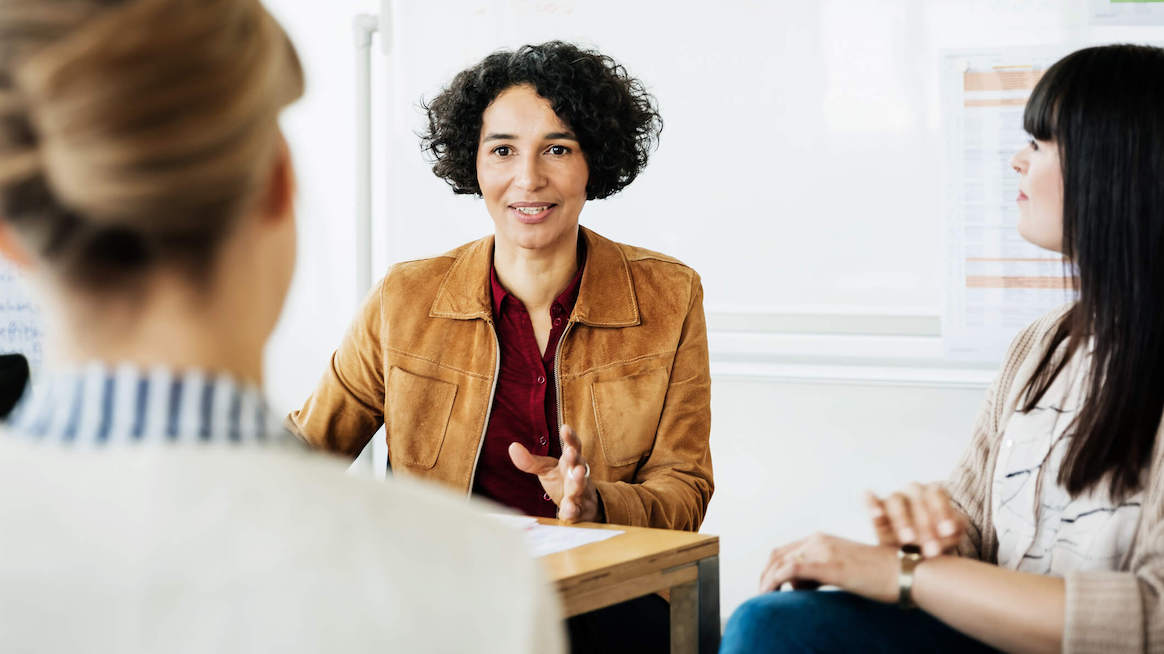 Teamwork makes the dream work.
At least, that's how the saying goes. But in reality, teamwork is exactly that — work. It takes a concerted effort to build an effective, thriving, and engaged team.
According to research by Deloitte, an investment in your leaders can pay for itself. Deloitte found that shifting to a team-based organizational model can improve your bottom line by 53%.
In today's climate, leaders are facing more challenges, decisions, and uncertainty than ever before. With a myriad of external factors impacting our employees' locus of control, leaders need to be keenly aware of what's impacting their teams.
Leaders are challenged to bring inclusive leadership and future-minded skills to their teams. Without these skills, teams stand to lose key attributes (like agility, productivity, and resilience).
And with a connection crisis brewing, 43% of employees don't feel connected to their own colleagues. The result? Our latest research shows that disconnected employees are less engaged, more anxious, depressed, and lonely. It negatively impacts workers' health but it can also have a ripple effect across the organization.
What exactly does team management mean? How can you help your organization transform its workforce with effective team management? What does human transformation look like when it scales across your entire team? Let's dig in.
What is team management?
On its face, team management seems simple. Team management is the ability that a team leader has to coordinate team members, delegate tasks, and achieve common goals. In the workplace, there's usually a manager who leads a team of colleagues.
But leadership is far more complicated than simply delegating and assigning team members to tasks.
Effective team management requires a portfolio of team management skills to create the best team possible. From managing workflows to combating burnout, building solid leadership skills helps to unlock your team's full potential.
Before we get into what skills are needed, let's talk about what every team needs to thrive — and why it matters.
Why is effective team management important?
Behind every successful team is a good manager. It takes a great leader to recognize the importance of team management. Let's talk through six reasons why team management is important.
Enhances the employee experience
As we know, a good leader brings a slew of leadership skills to the table. When a leader can effectively manage a group of people and tap into their strengths, it's a win-win for both the employees and the organization.
At BetterUp, we've studied leadership. In fact, we know good leaders can have an incredible impact on the employee experience. The caliber of a person's direct manager is the second most important factor when it comes to predicting a good employee experience.
Fosters a great company culture
We're living amid a connection crisis. Not only do nearly half of employees not feel connected at work, but 38% of employees also don't trust their co-workers.
But what happens when managers feel connected? How do connected managers impact team management? And what do connections have to do with the company culture?
Well, just about everything. Your company culture is a living, breathing organism. It's shaped by your employees and your leaders. It's how your employees connect and interact with one another. It's how your managers lead by example — and how key behaviors are encouraged and recognized.
Our relationships across teams matter. It's critical that team management facilitates connections because it's critical for professional growth and development.
Our relationships within our teams, with customers and partners, and with peers across the organization ultimately drive performance and the ability to deliver outcomes, especially for complex challenges in dynamic environments. And in the end, they're all ingredients for a thriving company culture.
Compass Group, a BetterUp customer, shares why BetterUp has played an integral role in taking care of its people. For Compass Group, BetterUp has become a must-have for the organization.
Helps retain top talent
We've all heard this phrase. People leave bosses, not companies.
It holds more truth than you might think. Research from DDI reports that 57% of employees quit their jobs because of their boss.
Employee retention is an ongoing issue for many organizations, especially in this market. Organizations everywhere are grappling with retaining their top talent. To go hand-in-hand with an employee's experience, a person's manager could be a make-it-or-break-it for your company.
Fosters a deep sense of belonging
Inclusive leaders have an incredible impact on team management. When leaders embed inclusivity, they're investing in the sense of belonging each employee feels at their place of work.
According to our data, teams with inclusive leaders thrive. Our research shows that with inclusive leaders, belonging increases by 150%. This also translates into better performance, higher innovation, and even lower attrition rates.
Builds a more resilient workforce
When it comes to a benefit of effective team management, resiliency tops the list.
Resilient managers are scientifically proven to build more resilient teams. We've also found that resilient teams (with resilient managers) are better prepared to be agile, perform better, and combat burnout.
Drives employee engagement
Last but certainly not least, effective team management helps drive employee engagement.
According to the Society of Human Resource Management, managers play a key role in driving employee engagement, especially through times of change. When looking at the data behind what has the most impact on employee engagement, it's impossible to ignore the role of a team manager.
Among the most important factors that drive employee engagement include:
Leadership commitment to the organization's culture

How leaders value employees as their most important resources
How do you effectively manage a team?
Now that we know why team management is important, how do you do it? Whether you're leading an in-person or virtual team, here are nine ways to effectively put your team management skills to the test.
9 ways to effectively manage a team
Be an inclusive leader
Facilitate meaningful connections
Build conflict resolution skills
Keep your emotions in check
Encourage professional development
Ask for feedback
Foster team collaboration
Set clear goals
Lean on your coach
1. Be an inclusive leader
2020 reignited a long overdue conversation about race and equity in this country. While many leaders committed to boosting diversity efforts, just 2% say their investments moved the needle.
But when managers are viewed as inclusive, the impact shows. Employees report 2.7X organizational commitment, 3.4X increase in engagement, and 3.4X increase in job satisfaction.
But one investment could have an incredible impact on your DEIB efforts: BetterUp. If you're implementing inclusive leadership training into your organization, dovetail personalized coaching into your strategy.
2. Facilitate meaningful connections
Especially in a remote and hybrid work environment, connections have been stilted. Regular conversations around the water cooler aren't happening off Zoom. Important milestones that might be regularly celebrated in an in-person setting — like weddings, birthdays, work anniversaries, and more — are going unnoticed. And relationships are suffering as a result.
Connections in the workplace hold an unexpected, incredible power. When employees feel connected at work, they see a 92% increase in professional growth, a 59% increase in positive relationships, and a 36% increase in well-being.
For team managers, how are you facilitating connections? Are you investing in team-building exercises? If you have a remote team, how are you invest in virtual team-building activities? Connections can be your secret management tool to help unlock the potential of your employees.
3. Build conflict resolution skills
Any team manager knows that the role comes with its fair share of conflict. Conflict in the workplace is inevitable. We're all showing up to work as our whole selves with diverse experiences, perspectives, and ways of getting things done. Team members might also have conflicting priorities, which is a slippery slope to team conflict.
So, to make sure you're effectively managing a team, look at how you can build your conflict resolution skills. Things like active listening, emotional regulation, and communication skills can make all the difference.
4. Get good at making decisions
With the amount of change organizations face accelerating, so does decision-making. To be effective at team management, leaders need to know how to make quick (and well-thought-out) decisions. In truth, it takes some big-picture thinking to make impactful decisions.
This also comes with the need for effective communication to communicate the decisions that are being made. Employees need to understand the context behind the "why" of their work, which includes the "why" behind some of the decision-making that might be happening behind the scenes.
5. Encourage professional development and career growth
Effective team management isn't just about looking at the present. It's about planning for the future, which means furthering your employees' careers.
If you're a manager, check in with your employees on their career development. How are you empowering your team members to grow professionally? Are you encouraging things like upskilling or learning?
6. Ask for feedback
Feedback is tricky. For some, it might seem like feedback comes from the top-down. While organizations are moving away from hierarchical structures, feedback can still seem daunting.
If you're a leader, make yourself approachable and vulnerable. Ask for feedback on how you're doing as a leader and create safe places for employees to share. If there's something that happens in the moment, be receptive to real-time feedback. Your team's progress can hinge on the quality of feedback you're both giving and receiving.
7. Foster team collaboration
There aren't many careers that eliminate collaboration from happening. Everything requires teamwork and collaboration in the workplace, from scheduling a meeting to launching a big campaign.
If you're sharpening your project management skills, think about collaboration falls into the mix. Find out working and communication styles. Encourage open and transparent dialogue, especially when things don't go well. And as always, work on your team alignment skills to make sure everyone is collaborating effectively.
8. Set goals (and communicate them well)
To effectively manage a team, a leader needs to set clear and measurable goals. Team members also need to understand the goals well — and how their work contributes to those goals.
Make sure your team's tasks ladder up to the larger team goals. Give your team the autonomy to build their priorities around meeting shared team goals. Regularly check in with your team about their progress — and help out with things like time management or roadblocks.
9. Lean on your coach
Last but certainly not least, lean on your coach. Leaders need a built-in support system to effectively manage their team members. If your leaders are managing other managers, coaching can help build the necessary skills.
BetterUp can help. Offer personalized coaching to your leaders to help ensure they're showing up to work as their whole (and best) selves. As we noted earlier, the well-being of the team is often a reflection of the manager. Your leaders can lean on BetterUp to help navigate tough conversations, give (and receive) feedback, and tap into their team's full potential.
2 examples of team management
Now that we understand the concept of team management, let's look at some team management examples.
Burt is a senior manager and oversees a team of six employees, most of whom are remote. Burt relies heavily on asynchronous communication, like Slack, to deliver news, share team progress, and delegate team tasks.

Recently, one of Burt's employees named Lori had a one-on-one meeting. Lori gave Burt some feedback that it was hard to understand timelines on certain projects or tasks based on what he shared in Slack. She asked if they could implement a team management software, like Asana, to help keep track of projects.

Burt was appreciative of the feedback and as a result, asked other employees for their feedback, too. Lori's insight was consistent across the team, so Burt thought it could be a great project leadership opportunity for Lori. He tasked Lori with implementing Asana as part of a team management software. Now, the team is able to keep track of their progress, roadblocks, deadlines, and deliverables — all in one place.

But because of Burt's team management skills, he empowered his team to be more successful. He listened to Lori's feedback, asked for feedback from others, and delegated a project for Lori to complete autonomously.
Peter works as a software engineer building apps but was recently promoted to a manager position. As a first-time manager, Peter was hoping to get some new manager training from his organization. But instead, Peter jumped right into work without any real training.

After just three weeks into his role, Peter felt stressed. He was acclimating to a new project management software that he couldn't quite understand. His team members — a team of four — had incredible skill sets. But Peter hadn't spent the time to get to know his direct reports yet.

He assigned some tasks to one employee that would've been better suited for another. Peter also communicated within the task management software instead of face-to-face, neglecting his one-on-one meetings. As a result, team performance started to plummet. It wasn't until two people quit a few months later that Peter reached out to ask for help.

In this instance, Peter had poor team management skills. He had the potential within him to be a strong leader. But without adequate resources, training, and support, Peter wasn't set up for success. As a result, his team suffered as well.
Tap into your team's superpowers
Your team has superpowers. You might not know it yet, but the potential comes from within.
An investment in BetterUp is an investment in your people. Try virtual coaching and see how your team management skills can reach the next level. Ultimately, we can help your organization thrive.
Published August 25, 2022
Madeline is a writer, communicator, and storyteller who is passionate about using words to help drive positive change. She holds a bachelor's in English Creative Writing and Communication Studies and lives in Denver, Colorado. In her spare time, she's usually somewhere outside (preferably in the mountains) — and enjoys poetry and fiction.