Back to Blog
6 strategies to curb the impact of survivor's guilt in the workplace
November 16, 2022
- 15 min read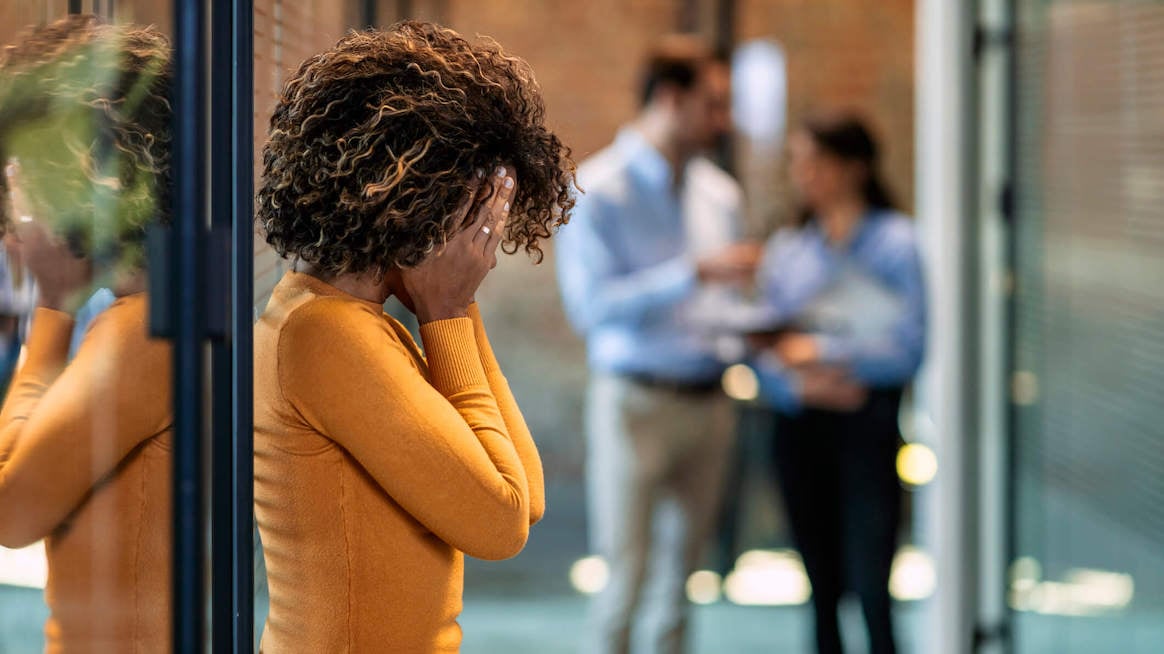 Guilt can come in all shapes, sizes, and forms. And sometimes, the person simply has to survive an incident or situation to feel it.
There are certain situations that can bring up symptoms of survivor's guilt. Some might experience survivor's guilt after living through a life-threatening event. For example, traumatic events like a car accident or natural disaster can cause many to experience survivor guilt.
But survivor's guilt can also present itself in the workplace. When it comes to events in the workplace like mass layoffs of employees, certain feelings of guilt can creep into your workforce.
Even in just the last few weeks, the tech industry has gone through waves of layoffs, impacting thousands of employees around the world. Companies are tightening their purse strings while bracing for employees to lose their jobs in a looming recession.
Thousands of employees have lost their jobs, livelihoods, and careers overnight. Yet in the workplace, survivor's guilt still lingers. And it's poised to envelope remaining employees who have emerged unscathed.
You might be struggling with survivor's guilt yourself. Or you might be looking for ways to mitigate its effect in your organization. We'll talk about how to best support your employees and their well-being. We'll also talk about how to mitigate this type of guilt to help rebuild psychological safety within your teams.
What is survivor's guilt?
First, let's understand what we mean by survivor's guilt.
What is survivor's guilt?
Survivor's guilt is when someone (or masses of people) experiences a loss yet you did not. It's a sense of guilt associated with surviving a situation, incident, or event while others did not.
Depending on the event, survivor's guilt can have a widespread impact on a person's mental health. It's also fairly common for those who have survived a traumatic, life-threatening situation to also experience this type of guilt.
One study found that 61% of survivors of a maritime accident experienced symptoms of survivor's guilt 30 months post-accident. Refugees, Holocaust survivors, mass shooting survivors, and war veterans have all reported symptoms. It's a type of guilt that doesn't discriminate on the type of trauma.
According to the Diagnostic and Statistical Manual of Mental Disorders (DSM), survivor's guilt is a form of post-traumatic stress disorder (PTSD). Common symptoms of post-traumatic stress disorder include vivid flashbacks, self-blame, and negative emotions. Oftentimes, the survivor questions why their own life was spared. It can lead to suicidal thoughts, low self-esteem, and other mental health issues.
If you're a survivor (or a first responder) of a traumatic incident, seek support. If you're experiencing survivor guilt and struggling to cope, seek mental health support. Professional help from a mental health professional will help you cope with your negative thoughts and sense of guilt.
But survivor's guilt can also bleed into the workplace in different ways. Let's talk about workplace survivor syndrome — and how to identify the symptoms.
What is workplace survivor syndrome?
When it comes to the workplace, workplace survivor syndrome can show up in different scenarios. It's a psychological response that employees can have when they survive layoffs or downsizing.
Many companies have cut staff and laid off employees in recent months. On top of these layoffs, the job market has cooled. Many companies have put a hiring freeze on their talent acquisition efforts. Reminiscent of the start of the pandemic, we're seeing layoffs saturate news cycles more and more frequently. That means thousands of workers have watched their colleagues' employment end, often abruptly.
For your employees that have survived the layoffs, it can bring up a deep sense of guilt. After all, layoffs aren't often downsizing bad employees. Some employees wonder why their job was spared. It can increase anxiety, depression, and other mental health conditions.
If we reflect back to the height of the pandemic, companies scrambled to cut costs. For many, that meant conducting layoffs. Psychologist John Hackston studied the impact of these layoffs on surviving employees. Roughly one-third of employees felt guilty about retaining their job while others around them did not. Beyond that, as time went on, survivorship feelings steadily increased. It suggests that people felt worse about their survivorship as the unemployment crisis continued.
Economists have predicted "uncomfortably high" odds of hitting a recession. It's also predicted that this recession isn't going to mirror what we saw at the height of the COVID-19 pandemic. Instead, it's poised to last longer. Spiking inflation, rising interest rates, and a volatile market are all risk factors that we're seeing today.
For employers, this means your surviving employees could be dealing with survivor's guilt for extended periods of time. From what we know from past research, that could mean negative mental health and well-being impacts on your existing workforce.
10 symptoms of survivor's guilt in the workplace
Let's talk a little more about how to spot the symptoms of survivor's guilt in the workplace. If you start to see or observe these symptoms in your employees, it's important to address them.
All of these symptoms lead to detrimental impacts on your people and your business. For example, let's look at disengaged employees alone. According to Gallup, disengaged employees cost the workplace $7.8 trillion in lost productivity.
While it's good to be reactive to managing these symptoms in the workplace, it's even better to be proactive. We'll talk about how to build mental fitness in your workforce to proactively curb the impact of survivor's guilt.
How to manage employees experiencing survivor's guilt
For any leader, managing employees is already a tough job. But employees struggling with survivor's guilt pose a new challenge for leaders. Here are six ways to manage employees who are experiencing survivor's guilt.
1. Conduct regular check-ins and ask for feedback
First and foremost, make sure you're checking in with your employees and having regular one-on-ones. Make sure you're being as transparent as possible and allow space for your employees to voice feedback. It's likely they're experiencing increased feelings of job insecurity or lack of job stability.
Encourage questions. Perhaps, show your own vulnerability by sharing some of the questions you might also have for leadership. These check-ins and requests for upward feedback can help rebuild psychological safety and trust.
2. Show that you care for each person
At BetterUp, we have a series of high-impact behaviors that guide how our workforce runs. One of our key high-impact behaviors is called "care for each person."
On its face, it's pretty simple. It's the idea that everyone shows how they genuinely care for their colleagues. But if we take it a step deeper, it's really about getting to know your people as their whole selves. It's about facilitating, maintaining, and deepening connections in the workplace.
After things like layoffs, your workplace is vulnerable. Your employees are experiencing waves of grief, loss, anxiety, and other emotions. Show that you care for them and what they're experiencing. Validate their feelings and experiences. Create those safe places where those feelings can be shared, too.
3. Overcommunicate (especially when it comes to change)
Communication is the key to a thriving workforce. When companies are clear, transparent, and direct in their internal communication, it builds trust. Strong and transparent communication can even help drive employee engagement.
We're living in a period where change is the new normal. In fact, change is accelerating and ever-present. It's likely that your organization will continue to make changes, especially after downsizing. For example, your leaders might be considering reorganizing the company's structure. Or new leaders might take over new teams.
Overcommunicate, especially when it comes to change. But beyond frequent communication, make sure your communication method is a two-way street. Can employees ask questions and share feedback? Are you able to provide a forum on a company-wide scale for employees to communicate their needs?
4. Enlist support from mental health professionals
It's possible that some of your employees are experiencing very real mental health issues. Some organizations work with employee assistance program (EAP) providers to host support group meetings for your workforce.
Make sure you're supporting employees as best you can with a multi-pronged approach to their well-being. What kind of social support can you offer in addition to mental health support?
5. Invest in building mental fitness
While it's important to react appropriately to the symptoms of survivor's guilt, it's important to cushion the impact proactively as much as possible. Being proactive about your employees' wellness boils down to one thing: building mental fitness.
At BetterUp, we've studied the benefits of coaching and mental fitness in the workforce. BetterUp Labs data shows that employees who are mentally fit lead teams that are 31% more productive and 1.2X more able to recover from setbacks. Our data also shows that mentally fit employees are 22% more satisfied with their jobs and 78% less likely to leave voluntarily.
Building mental fitness by providing access to coaching can be a game-changer for your organization. In fact, coaching can be the difference between a flailing and thriving workforce.
6. Re-examine your company priorities as it relates to taking care of your people
This is a broad step but one that could help hone in on areas of opportunity for your organization.
Let's take self-care and PTO as an example. It might seem counterintuitive for your leaders to encourage employees to take time off after something like a mass layoff. But the reality is that your people are what will make your business successful.
Recognize the elephant in the room. Your surviving employees are struggling to maintain their well-being. While time off isn't a cure-all for burnout, stress, or anxiety, it certainly helps. Encourage employees to use their unlimited PTO to spend time with loved ones. Make sure they know that their well-being is a priority to the company. After all, when employees feel great, it reflects in their work and performance.
Curb the impact of survivor's guilt
Your company might be preparing for a wave of layoffs. Or you might already have cut a portion of your workforce — and you're seeing the impact on your employees now.
No matter the scenario, survivor's guilt in the workplace is a real threat to any company. Not only does it cause negative business impacts, but more importantly, it's also negatively impacting your people.
Think about how BetterUp can help you curb the impact of survivor's guilt. Virtual coaching proactively builds mental fitness to help your workforce be prepared for whatever the future holds.
Published November 16, 2022
Madeline is a writer, communicator, and storyteller who is passionate about using words to help drive positive change. She holds a bachelor's in English Creative Writing and Communication Studies and lives in Denver, Colorado. In her spare time, she's usually somewhere outside (preferably in the mountains) — and enjoys poetry and fiction.