Back to Blog
Considering a reduction in workforce? 5 ways to ease the transition
October 20, 2022
- 17 min read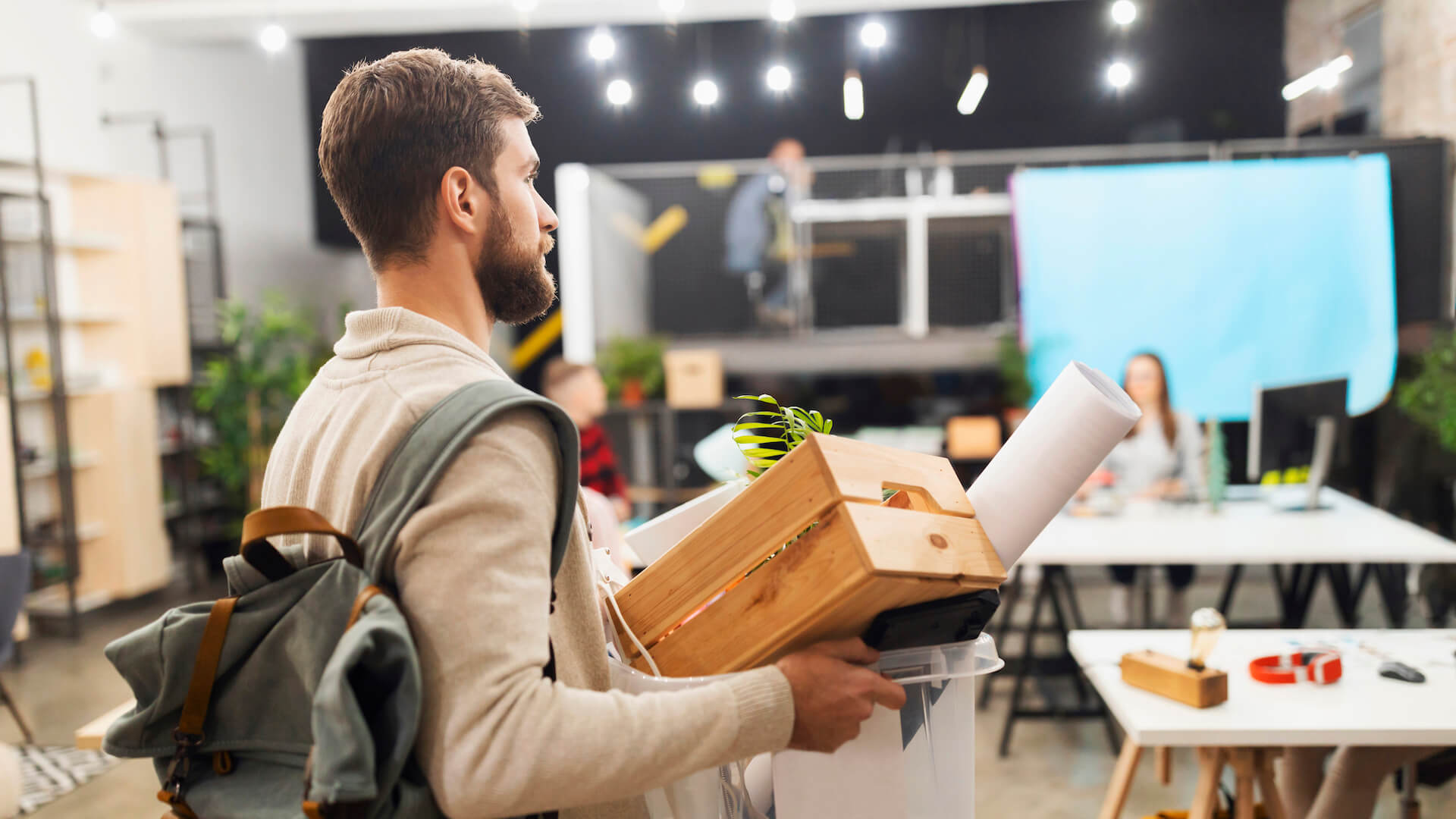 Carrying out a reduction in workforce is painful and tricky.
With several companies already announcing layoffs amid a slowing economy, there are concerns that if the downturn dips into a recession, more CEOs will turn to layoffs because they see them as the quickest and easiest way to cut costs. Indeed, this appeared to be the default tool for C-suite leaders during the Great Recession, when one in five workers experienced a layoff.
But the world of work and talent marketplace are vastly different than in 2008. Experience from previous recessions suggests the old strategy of mass layoffs usually hurts a company's financial and competitive position more than it helps.
Before moving forward with a reduction in workforce, HR professionals can play a crucial role in protecting the future of their organization by helping leaders understand the true costs to both the organization and the people involved and presenting alternatives. If downsizing can't be avoided, HR and middle managers will be the ones on the frontlines to ensure that terminations are undertaken with the utmost care.
Being a manager during a layoff is highly stressful and gut-wrenching. From delivering the bad news to valued employees to holding the remaining team together and maintaining productivity despite all the upheaval, it takes an enormous amount of energy, care, and courage. That's why it's important to take it one step at a time and muster all the resources you can to help you ease the transition.
First, it's important to clarify the language you use when communicating about such a sensitive topic as staffing reductions.
What is a reduction in workforce?
A workforce reduction or reduction in force (RIF) is the term to use when a position is eliminated with no plans to replace it, resulting in a permanent cut in headcount.
What is the difference between workforce reductions, layoffs, and furloughs?
Though many employers and media use these terms interchangeably, there are important differences to note:
Reductions in workforce result in the permanent termination of an employee position.
Layoffs can mean temporary or permanent employment termination. Depending on economic and other business conditions, employers may reinstate employees or decide later that a temporary layoff becomes permanent.
Furloughs are a mandatory leave of absence or reduction in work hours, for a specified or unspecified period. At the end of a furlough, employees are expected to return to work or to a full work schedule. While furloughed workers often continue to receive employee benefits like health insurance, laid-off employees do not.
Legal considerations during a reduction in workforce
The National Law Review advises companies to avoid rushing into decisions on layoffs so they can allow time to consult with employment attorneys for a thorough legal review of their plans.
Areas for special attention include:
Using objective criteria for selecting employees for layoff. These factors may include skill set and experience, seniority, criticality of positions or departments, performance review scores, and disciplinary action.
Avoiding disproportionate layoffs of protected groups. Layoff decisions should be reviewed to ensure the criteria doesn't result in a higher percentage rate of dismissal of older employees, employees with disabilities, or any other group protected by federal employment discrimination laws. For example, to determine whether female employees may be affected more than male employees, compare the percentage of female employees scheduled for layoff to the percentage of female employees in your workforce.
Determining if advance notices are required. The federal Worker Adjustment and Retraining Notification Act (WARN Act) requires employers with 100 or more employees to provide at least 60 days advance written notice of a plant closing or mass layoff affecting 50 or more employees at a single site of employment. Be aware that some states require more time.
How does workforce reduction affect employees?
Layoffs and workforce reductions take a tremendous toll on both terminated employees and those remaining at the company, creating emotional upheaval and financial uncertainty in their daily lives. Here are some of the employee impacts to watch out for during and after a layoff:
Low morale and motivation
After watching colleagues they care about lose their jobs, many remaining employees experience a sense of loss and uncertainty about their own future. Most struggle with low morale and find it hard to be motivated in an environment that feels like it's been turned upside down.
Loss of trust
Layoffs are trust killers. If they aren't handled humanely, employees will view all their company's talk about valuing employees as hollow and insincere. They also are more likely to doubt assurances about their own jobs and may start looking for new employment opportunities. Considering that companies with high-trust workplace cultures perform nearly 2x better than the general market in terms of earnings, fostering and maintaining trust in leadership is a big issue.
Job insecurity, anxiety, and depression
When employees fear for their jobs, they tend to feel a loss of control over their lives. Especially with today's high food and housing prices, job insecurity can make a person feel anxious and depressed. This can make it hard to focus or concentrate on their work.
Increased burnout and stress
A reduction in headcount usually means the remaining team members must take on more work and responsibilities. Coming on the heels of the pandemic, which led to a burnout epidemic, layoff-induced stress may cause serious harm to physical and mental health.
If left unaddressed, all the disruption and stress created by layoffs shows up in measurable ways that have a significant impact on the company as well as its employees. According to research published in HBR, companies that laid off employees experienced significant declines in workforce engagement across the board, including a:
20% drop in job performance
36% less organizational commitment
41% lower job satisfaction
31% increase in voluntary turnover
5 ways to ease the discomfort of workforce reduction
There's no getting around it. Workforce reduction is painful for everyone involved – those losing their jobs and those left behind. But the care and steps you take in communicating and supporting everyone will make an enormous difference in how each individual weathers the impact, how your team performs in the aftermath, and in how employees – and prospective talent – perceive your company for years to come.
Here are five ways to help make the process more bearable and lay important groundwork for recovery.
1. Communicate with empathy and transparency
Employees want and need clear, direct, and honest communication directly from management about layoffs. You don't want them to hear about it first from the rumor mill – or in any form of media. Be precise in language, show empathy, and be ready to answer tough questions. Layoff communications should provide a candid reason for the decision, such as declining revenue or market shifts, as well as details, such as timing, the number of employees, and which departments are affected.
Plan the communications based on the size and impact of the layoffs. For example, some leaders will either hold a series of meetings with an entire unit, or meet with smaller groups, followed by individual meetings with affected employees. The first communication should be verbal, preferably delivered one-on-one by the employee's direct supervisor. Written communications and specific employee separation letters should be carefully prepared in advance so they will be available for immediate distribution and access.
2. Develop severance packages to support terminated employees
Though not mandatory, severance pay is one of the most practical ways to demonstrate fairness and support after a layoff. Most companies include some type of severance pay in their termination packages, with 88% reporting that they provide severance when termination is due to a staff reduction or corporate restructuring, according to SHRM. While the typical amount is one to two weeks of pay for every year of employment, packages will vary significantly depending on the company. However, it's important that employees are treated consistently, with all severance pay calculated on the same basis.
3. Provide high-quality job search assistance
Many companies offer job search initiatives or funding to help terminated employees land a new position. Some offer financial assistance to reimburse the costs of resume creation and career coaching, allowing the employee to choose the services and providers that best match their needs. However, most employers contract with an outplacement firm to provide a package of services. The catch here is that sometimes these services don't offer enough individual help and can leave employees feeling let down and unsupported. Outplacement services need to go beyond a check-the-box package by providing high-quality, meaningful help, including one-on-one coaching, professional resume writing and mock interviewing.
4. Develop effective offboarding processes
A well-organized offboarding process gives employers the chance to say farewell to an employee, collect their feedback during an exit interview, and lay the groundwork for a smooth transition. It's an important opportunity to show care and empathy, while also demonstrating respect for their individual dignity. At its best, an offboarding process can help increase the chances that an employee would consider reemployment in the future.
The offboarding process may include:
A conversation with human resources
Notifying other teams
Transferring the employee's short-term duties to a replacement
Collecting company equipment
Deleting or revoking access to accounts
Performing exit interviews
Depending on the situation, throwing a farewell party
5. Use coaching to build resilience
Resilience is often defined as an individual's ability to bounce back from adversity. And if ever there's a time of adversity, it's during a layoff. Fortunately, employees can learn and build resilience, like any skill. Research indicates that professional coaching is one of the most effective ways to build resilience and its related drivers – emotion regulation, cognitive agility and self-compassion.
By providing employees and their managers with ready access to one-on-one coaching, employers give them a chance to privately express their fears and concerns about their jobs, colleagues, and career futures. Coaching provides employees with non-judgmental feedback, training in stress reduction and mental fitness techniques, and support for managing career change that encourages personal and professional growth. More resilient employees also tend to have higher productivity, which can help their organization maintain stronger performance even through layoffs and grow faster than its peers during the recovery.
Explore alternatives to a reduction in workforce
There are other reasons senior leaders may turn to layoffs besides a recession, such as restructuring after mergers and acquisitions, discontinuing unprofitable product and service lines, and rapid automation. With rapid changes brought by technology and shifting customer behavior, some positions may no longer be needed, while other areas have growing demand.
But there can be a better way. And good reason to try. There's ample evidence that layoffs aren't only hard on employees; they are almost always bad for the company, write Harvard Business School authors and researchers Sandra Sucher and Shalene Gupta in their recent book, The Power of Trust: How Companies Build It, Lose It, Regain It.
The authors cite several company examples where the leaders, recognizing the damage caused by layoffs, chose other ways to achieve cost-cutting and restructuring goals, such as furloughs, reskilling and upskilling, and proactive internal redeployment. These actions help the companies be more agile than their peers in ramping up for increased demand and adapting quickly to seize emerging market opportunities.
A company may not have too many employees; some may just be working in the wrong areas. By combining reorganization with reskilling and upskilling, companies can make proactive workforce change strategies a competitive advantage.
Some examples of effective layoff alternatives include:
Redeploying employees where they're needed: Most companies lack the visibility to know their employees' full capabilities, leaving internal workforces an untapped, yet valuable source of talent. Moreover, many employees report that it's easier to find new opportunities in other companies than in their own. In a layoff situation, this can mean high performers are let go from one department, while another manager is struggling to fill vacancies.
Some companies are using AI-powered platforms to identify internal workforce capabilities by allowing employees to build profiles like LinkedIn, detailing their skills and interests that often go well beyond their current job responsibilities. The system can direct internal opportunities to employees, as well as help managers identify internal candidates with the skills they need for new positions and projects. For example, Unilever used their internal talent program to quickly shift thousands of employees from low-demand to high-demand areas during the pandemic.
Reskilling and upskilling: While reskilling involves teaching current employees new skills to prepare them for other roles, upskilling trains these employees to grow their existing skills to a higher level. Both are essential strategies for managing an agile workforce and offer significant savings compared to the costs of layoffs, hiring, and training new employees. When companies invest in their employees through reskilling and upskilling, they foster trust, loyalty, and innovation by breaking down silos and enabling knowledge exchange across different functions and markets.
Furlough employees: A temporary measure instead of a permanent layoff, furloughs allow companies to retain talent to be deployed quickly when demand returns. Furloughs save costs by putting employees on unpaid leave or on part-time hours, but usually provide an important safety net by continuing health benefits for the employees and their families. Although furloughs were not widely used during the Great Recession, many companies used furlough strategies effectively during the pandemic. While most companies put furloughed employees on leave, lessons from the trends in flexible work suggest employers may want to explore having full-time employees work fewer hours or a shorter workweek for reduced pay.
Manage employee performance and headcount: Some companies tend to fall into a painful cycle of using periodic layoffs to thin out the ranks to cull low-performing employees and cut teams that have grown bloated over time. HR professionals can help their companies avoid this by giving managers better tools to proactively manage employee performance through meaningful reviews, coaching and development plans. Workforce planners can also help their companies better control headcount by requiring managers to hire internally whenever possible, especially during uncertain economic times.
Stay true to your company's values
In a perfect world, there would be no layoffs. But even after exploring and implementing appropriate alternatives, they may be unavoidable. If that is the case, it's important to ensure the process is undertaken in full alignment with your company's values and purpose. By taking the time to pursue alternatives and put processes in place that support and treat all involved with dignity and empathy, your organization can protect employee trust and emerge more resilient and ready to move forward to face the future together.
Published October 20, 2022