Back to Blog
How to build agile teams with the right workforce development strategy
July 29, 2022
- 10 min read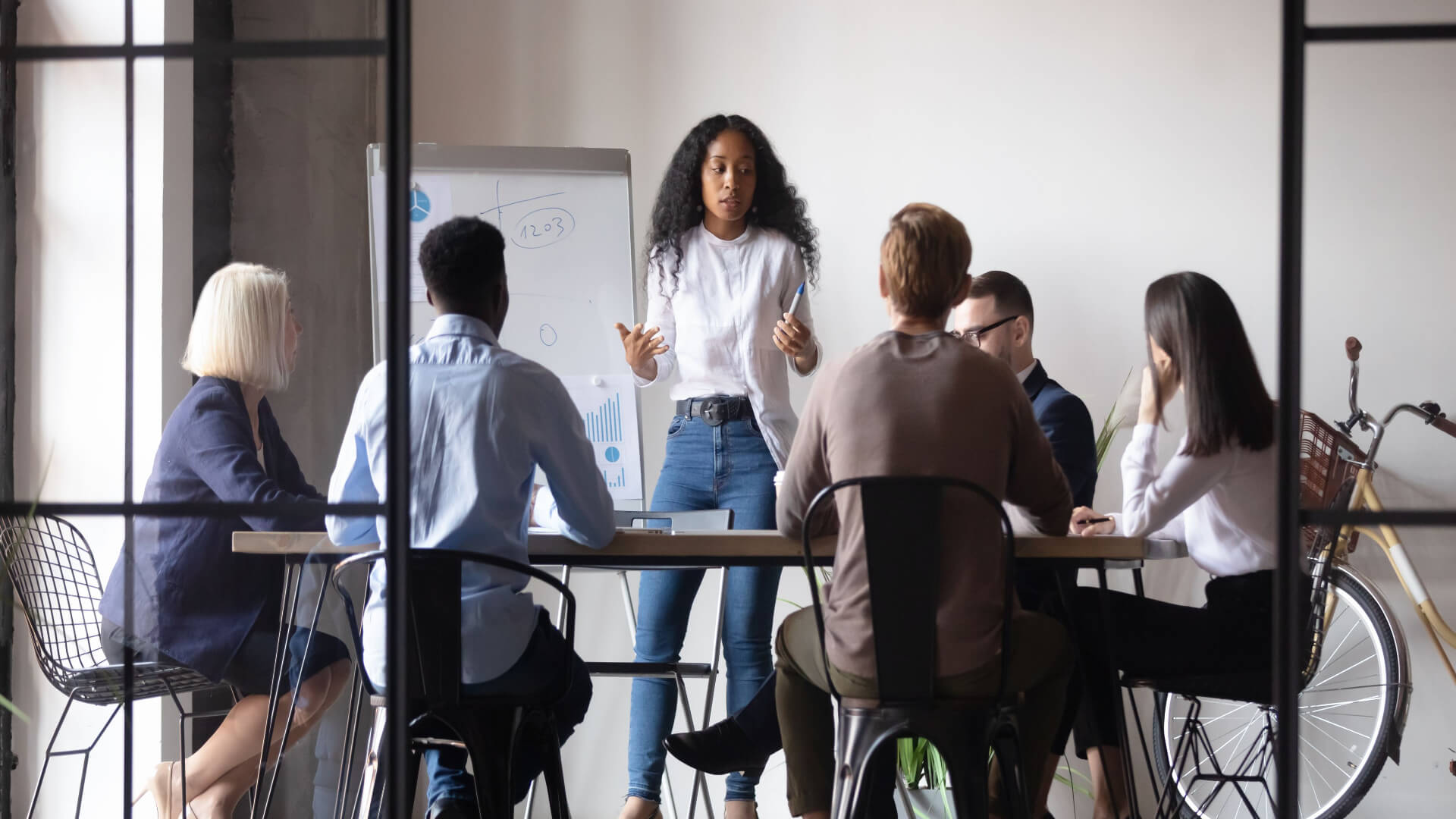 What's more important in your workforce — competence or innovation?
As the world of work changes, the answer is becoming clearer. You need both. Today's knowledge workers don't depend on one finely-tuned skillset — arguably, they never have. Neither have companies. In order to succeed, companies have to strike a balance between doing something extremely well and doing something extremely different. Workforce development is a key part of that.
However, there used to be a tendency to create a kind of schism between the established, "blue-chip" organizations and spunky start-ups. Workplace culture determined the value of creativity and agility at work. Employees in this dichotomy were hired for their existing skill sets or their ability to think outside the box — not both.
As the saying goes, "What got you here won't get you there." Most organizations need some innovation to stay competitive, and employees aren't satisfied with punching in and punching out. The shift in what companies need and what workers expect may change a company's workforce development strategy.
Workers value meaning at work — so much so that they're willing to take a pay cut in exchange for it. Meaning comes from knowing the work you do matters to someone else. Meaning also comes from doing work that matters to the employee, that keeps them relevant and growing. The right workforce development programs can serve the needs of employers and employees, improving employee retention and positioning the company for its next move.
Workforce development strategies are all about building and strengthening your company's workforce for the future. Of course, looking ahead and understanding what type of workforce the company will need in the future makes developing a strategy more challenging. It isn't just about developing one or two fixed skillsets anymore. A good strategy can help increase productivity and performance or simply keep your workforce happy and motivated in their roles.
A workforce development strategy can be implemented on both large and small scales, and helps to drive positive change in any organization of any size. Keep reading to learn the elements of a workforce development strategy and how to design a plan that works for your team.
What are workforce development strategies?
Workforce development strategies are formal or informal plans and programs implemented by businesses or organizations to support the career development of their employees. Traditionally, workforce development focused on building specific skills, usually through training programs. Today, common strategies include offering training and educational opportunities, providing mentorship and coaching programs, and creating forums or webinars for employees to share best practices.
Workforce development can also refer to developing partnerships with other organizations to create opportunities for employees to gain new skills or certifications. This might look like job shadowing, mentorship, or apprenticeship programs. There are even employee development programs called returnships, geared towards job seekers coming back to the workforce after a career break.
HR metrics are often used to measure the success of workforce development programs, and businesses may use real-time data to make adjustments as needed. Overall, though, these programs tend to have a strong positive impact on employee engagement, job satisfaction, retention, and belonging.
Benefits of workforce development
Workforce development strategies are designed to be a win/win, supporting both the career development and success of employees while helping organizations sustainably scale and prosper.
Employees thrive under the increased attention and investment from their companies. They receive mentoring and learning opportunities, which can lead to career advancement. Their new skill sets benefit the organization, but also improve their confidence and engagement in their roles.
Companies benefit from reduced turnover costs and a happier workforce. Their newly-reskilled employees are often more creative and productive. Workforce development can help companies with economic development initiatives by providing training programs and on-the-job training. This improves the company's competitiveness as both an industry leader and a place to work.
Workforce development strategies for an agile team
Historically, critics of workforce development strategies have cited large upfront investments of both time and resources. But talent development activities don't have to be cumbersome, expensive, or disruptive. The best-laid plans are not plans at all — but an investment in workplace culture that encourages teams to embrace a learning mindset.
BetterUp embraces three high-impact behaviors that reflect this commitment to continual learning: Work to Learn, Impress Yourself, and Stay on Your Edge. These principles aren't just in our conversations and daily work — they're in our benefits package, too. As a company whose mission is human transformation, we offer coaching, a learning stipend, and continual growth opportunities to every employee.
Designing the right plan means understanding (and communicating) why it's important, and being strategic about providing opportunities that make a real difference.
What makes a successful workforce development program?
There are a few key components to a successful workforce development program. A strong plan needs to look critically at what the organization's goals are and the gaps in the currently available talent.
However, to get buy-in, it can't just address the company's needs. Employers can maximize retention by looking at the labor market and helping their teams develop the skills and credentials that actually make them more valuable.
Your team has their own development goals at work, too — and they want to grow. Rather than being afraid that your team will run off to the competition, trust that your investment in your workforce system will actually help you close that skills gap while increasing buy-in.
Here are seven questions to help you put together your strategic plan:
What are the goals of the organization?
What skills do the employees need to achieve these goals?
What training and development opportunities will help employees acquire these skills?
What resources are available to support employee learning?
How can the plan be implemented effectively?
What should be done to evaluate the success of the plan?
What changes should be made if the plan is not working as intended?
How do you create a relevant strategic workforce plan?
It can't be overstated: While a talent development plan is a great addition to any workforce strategy, it has the most value when it's customized to your team. Get your organization involved in what the new program will look like and how it addresses your employment needs.
These 6 steps will help you design a relevant, engaging strategy that empowers your team:
How do you create a relevant strategic workforce plan?
Develop a clear company vision
Ask your team to share their ideas
Offer regular feedback
Invest in professional development opportunities
Emphasize self-care
Encourage communication
Develop a clear company vision and make sure everyone on your team is aware of it and buys into it. This will help keep everyone aligned and focused on the same goal.
Encourage team members to share their ideas openly and give them opportunities to lead projects or initiatives. This will help them feel invested in the company and motivated to do their best work. Ask them to offer their own suggestions on how to close the skills gap and address shortages in both talent and resources.
Offer regular feedback, both positive and constructive, to help team members learn and grow in their roles. This will show them that you value their development and are committed to helping them improve.
Invest in training and professional development opportunities for your team members. Helping them to increase their skillsets will not only benefit them but also ensure that they can continue to provide valuable contributions when needed.
Put measures in place so employees can take time off from work when they need it (without fear of retaliation). Encourage team members to talk about what helps them recharge after long periods of intense effort, as well as offer some suggestions for how others might be able to better care for themselves if they need some downtime.
Keep an open dialogue with your team about any changes happening at the company — and keep their input in mind as those changes are being made. Engage them as stakeholders in their own growth and development.
Final thoughts
Your workforce development strategy is an investment, but it's one of the best moves your human resources team can make. It's not enough to push for productivity. When you invest in a person's growth, they become even more valuable to your organization. But your company also becomes an even more integral part of their personal and professional development.
Published July 29, 2022