Back to Blog
Understanding pay transparency: 5 reasons to start talking money
September 28, 2022
- 16 min read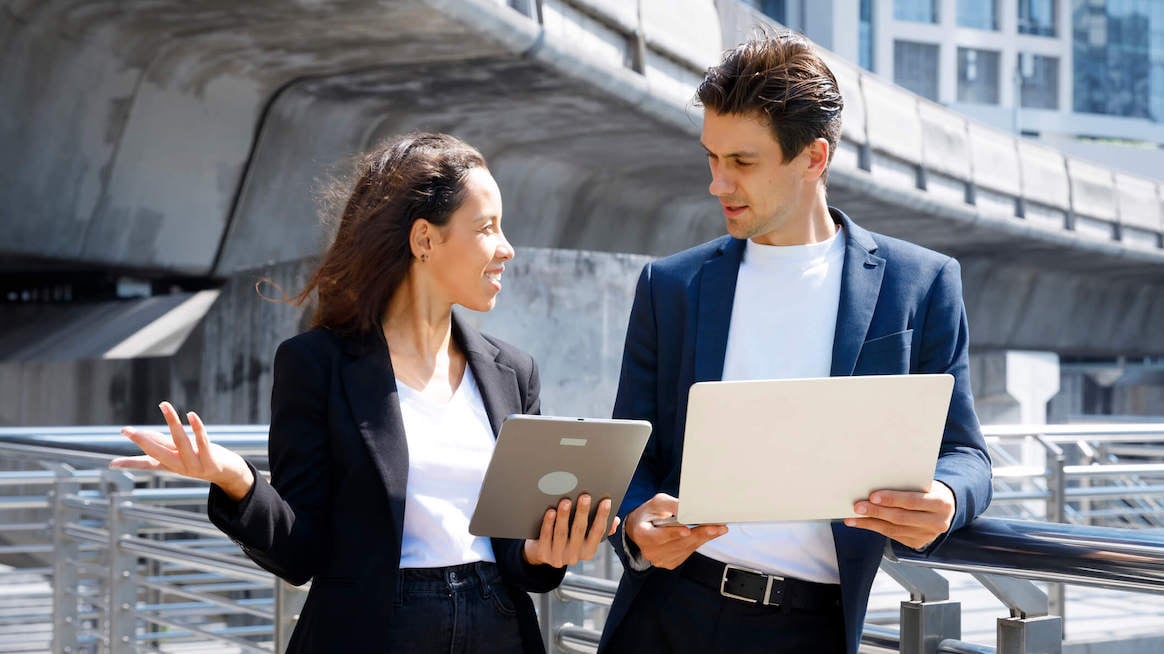 Salary can be a touchy subject for companies and employees alike.
For many years, talking about compensation and salary ranges simply wasn't common practice. Disclosing your salary was considered taboo or looked down upon. Employers would discourage open discussions about salaries among employees. Meanwhile, employees would express hesitation around sharing — some more than others.
But recently, pay transparency has snowballed into a growing movement. For many, being transparent about salary information is one way to help further pay equity in the workplace. That transparency is the first step to uncovering disparities in pay.
In fact, research backs this up. Studies show that pay transparency can help close the gender pay gap. And when coupled with laws that prevent a company from asking a candidate about their current or previous pay, the gender gap narrows.
Beyond pay equity, pay transparency brings plenty of benefits to an organization. From increased job performance and satisfaction to retention and trust, pay transparency pays off. After all, how you compensate your employees speaks to how much you value them. When employees feel valued by their organization, it increases employee engagement.
Your organization might be wondering how to maximize the positive impacts of pay transparency. Or you might be an employee wondering how to further pay transparency in the workplace. Let's dig into what pay transparency is, the pros and cons, and how you can start reaping the benefits.
What is pay transparency?
What exactly is pay transparency?
According to federal law, pay transparency is the degree to which employers are open about salary and pay information. Salary transparency can also mean the ease at which employees can find out the compensation of other employees in their workplace.
We know pay inequities exist. These inequities disproportionately impact women, especially those who are Black, Indigenous, and people of color (BIPOC). According to US Census 2020 data, women earned 83 cents to every dollar a white man made. But not all women are equitably paid, either. On average, Black women are only paid 63 cents for every dollar paid to a white man. Further, Latinx women earn 57 cents for every dollar paid to a white man.
It's a fact that all pay isn't equal. So, to help address pay inequities in the workplace and work toward equal pay, the practice of pay transparency has emerged. Let's get into what pay transparency looks like from a legal perspective.
Pay transparency laws
In recent years, pay transparency laws have become more prevalent. Now, there are 17 states in the US that have some sort of pay transparency law in place.
Disclosing salary ranges (especially on job postings) has become one recent effort to help close the gender pay gap. The below states have led the way in making it legally required for employers to disclose salary ranges on their job descriptions:
California
Colorado
Connecticut
Maryland
Rhode Island
Washington
As of April 2022, New York City also requires employers to post salary ranges for every job posting. And more and more employees are asking for salary ranges as part of the hiring process.
While it's picking up momentum, these transparency policies and laws are still fairly new. It's not the norm for pay data to be transparently disclosed to employees and candidates. But with these states leading the way, we can likely expect other states to follow suit soon.
In order to attract top job applicants, employers will need to take pay transparency into consideration. Let's get into some more details about the pros and cons of disclosing pay ranges.
The pros and cons of pay transparency
Now that we understand the concept of pay transparency, let's understand the impact. What are some pros and cons of adopting pay transparency practices? What impact can it have on your employees? Does it impact performance management?
Pros
First, let's talk about the pros. Here are five advantages to adopting pay transparency in the workplace.
Attracts top talent. In a time when companies are looking to attract and retain top job candidates, pay transparency can be a competitive advantage. Disclosing market rates on job titles can help make sure top candidates are applying to open jobs. Tools like LinkedIn now include market data, especially in states where pay transparency is required.
Increases job performance. When it comes down to it, pay impacts how valued your employees feel by your company. If employees don't feel valued, it can negatively impact performance. But on the flip side, data shows that pay transparency can increase task performance. Being transparent about compensation can actually be good for business.
"We still are not paid equally. And if you believe that it's a myth, do the math. Unequal pay hurts women. It hurts their families. And it hurts us all. You and I have to continue fighting for equal pay for equal work. I get up each day with that on my mind, because I need to make a difference."

Lilly Ledbetter, pay equity activist
Cons
Exposing your pay problems has ripple effects across the business. Well, this one should be fairly obvious. If you have pay equity problems, pay transparency will bring them to light.

And for your human resources and legal teams, it could lead to things like employees quitting. Or maybe employees are dissatisfied and disengage from their work. It might cause your employees to share wage gap discrepancies on social media, which could hurt your employer brand. It might dissuade job seekers from entering the interview process.

If handled improperly, your organization could suffer. It's important to make sure your organization works closely with your internal communication team. This is especially true if pay discrepancies are uncovered. If you're rolling out pay transparency policies, it's important to ensure your employees understand what they mean.
Potential to cause internal team conflict. Pay transparency without a policy can cause tension between colleagues. Without a policy in place with communication support, it can cause speculation among current employees. When employees make assumptions without fully understanding the policy, it risks conflict.

This is why it's critical that pay transparency comes with a policy as well as ample internal communication. Sometimes, companies hold things like office hours or Q&A sessions. These hands-on communication tools also help reinforce key pay transparency components.
Won't solve pay equity as a whole. If you think implementing pay transparency will solve your pay gap issues, think again. While pay transparency can certainly help move the pay equity needle, it's not a one-size-fits-all solution.

While pay transparency practices bring plenty of benefits, there are some cons. For the most part, many of these cons are avoidable and problems that should be addressed. But it's critically important that pay transparency practices are handled and communicated well. These cons are avoidable with the right communication skills, a growth mindset, and transparency.
How to maximize the positive impacts of pay transparency
If your organization is ready to roll out pay transparency, here are four ways to maximize the positive impacts.
1. Create a clear pay transparency policy
The first step to reaping the benefits of pay transparency is to create a policy. First, check with your HR and legal teams on state laws that might apply to your workforce.
Then, work to create a clear, easy-to-understand policy. There's nothing worse than having a complicated, jargon-filled policy about an already touchy subject. Make sure the policy includes an FAQ for employees and has a way for employees to ask and receive answers to any questions they may have, too.
2. Communicate the pay transparency practice — and do it well
Communication is the buffer against internal conflict in the workplace. If your employees understand the policy well, it can help deter and prevent some of those cons from happening in the first place.
Work with your internal communication team to make sure the policy is well-communicated to your workforce. Consider hosting office hours or a Q&A session with your HR team for more hands-on support.

For example, think about how well-educated your HR team is on the practice of pay transparency. Do they understand the purpose behind it? Do your employees understand the importance of communicating this message?

Are there key messages or talking points you can provide to your frontline HR managers? Are your employees getting a clear and authentic lens into what your total rewards strategy looks like? Are you receptive to feedback about your total rewards strategy and how it's communicated, too?

You want to make sure you're reiterating the "why" behind pay transparency. Without understanding the purpose, employees risk missing important information.

How does pay transparency align with your company's core values? In what ways do you hope pay transparency can build trust with your employees? How will pay transparency benefit your employees?
3. Be honest about your pay analysis
If you're doing a pay transparency audit for the first time, it might feel daunting. And let's face it: we know that pay equity isn't the norm. Your compensation analysis might uncover some problems that you'll need to address.
Make sure you handle your analysis with integrity. Look at this as an opportunity to build trust and promote fairness with your employees. By doing so, you'll be better positioned to retain your top talent.
4. Commit to growth
Companies, like humans, are constantly evolving. And bettering ourselves often translates into bettering our company, too.
Commit to growth. Pay equity isn't going to be solved with pay transparency alone. But showing your commitment to equity in salary shows a commitment to your people. And in order to do so, you need to show your investment in continuous growth and transformation.
Sometimes, these conversations are tough ones to have. Let's say you conduct a pay parity analysis and uncover some problems. Lean on your support resources — like your coach — to help navigate how to best address these growth opportunities. We all have room to better ourselves. And that leads us to our next step in the pay transparency process…
5. Make meaningful change
Pay transparency is the start to making change. It's the launchpad to a workforce where employees are compensated and valued for their contributions equitably.
Make an action plan for how you'll address pay parity in your organization. Create changes in how you communicate about salary to your employees. Commit to ongoing communication and transparency about pay. And gather (and listen to) feedback.
Your employees are your best assets. How are you showing them that you value their work? In what ways are you keeping your core values front and center in everything you do?
Start talking about money
We know that talking about compensation and salaries can be uncomfortable. But when it comes down to it, discomfort is just the beginning of a growth journey. It's the first step to learning and growing. This means admitting when systems are broken and committing to bettering ourselves and our organizations.
Consider how BetterUp can help you on your growth and transformation journey. With BetterUp, you can equip your employees with the tools they need to navigate uncertainty, change, and even conflict. Transparency in the workplace starts with showing up authentically. How are you creating a workplace built on trust?
Published September 28, 2022
Madeline is a writer, communicator, and storyteller who is passionate about using words to help drive positive change. She holds a bachelor's in English Creative Writing and Communication Studies and lives in Denver, Colorado. In her spare time, she's usually somewhere outside (preferably in the mountains) — and enjoys poetry and fiction.