Back to Blog
Can blind hiring improve your company's diversity initiatives?
September 23, 2022
- 14 min read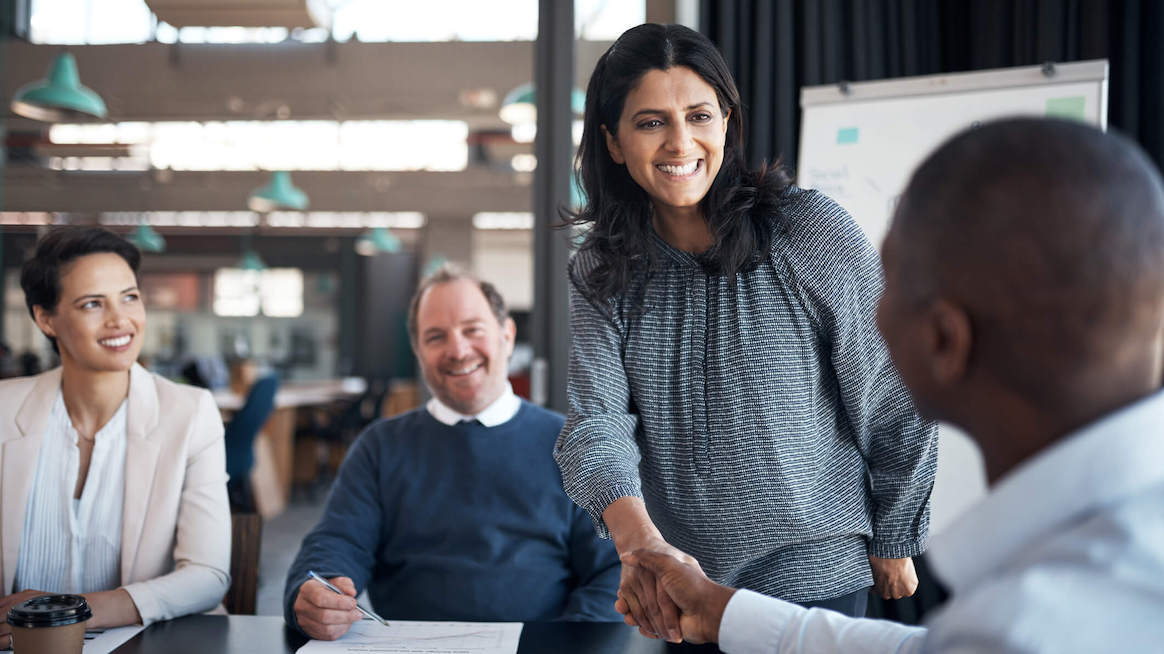 "We will all profit from a more diverse, inclusive society, understanding, accommodating, even celebrating our differences, while pulling together for the common good."

- Ruth Bader Ginsburg
Meaningfully diversifying your workforce is the right thing to do. It's also good for your organizational performance. A diverse workforce means more adaptable, high-performing teams, and your people become better innovators, problem-solvers, and collaborators.
But how you hire diverse talent matters just as much (if not, more) than the notion of diversity hiring as a whole. Organizations everywhere are striving to create a more diverse, equitable, and inclusive workplace, and hiring is an important piece of that puzzle.
Some have made bold DEIB commitments and have shifted how they're sourcing candidates. Others have worked to create new talent pipelines that break barriers diverse candidates tend to face in the corporate world. And still, others have rolled out diversity training programs, DEIB-specific coaching, and unconscious bias workshops to help galvanize change from within so that diverse candidates and hires experience more inclusion and belonging in the workplace.
But there's a hiring tactic that's been floating around the recruiting world called blind hiring. Essentially, it's the idea that you can overcome bias by removing certain details from a candidate's application. It sounds simple. Does blind hiring move the diversity needle in a meaningful way? Let's get into if blind hiring actually works — and how to overcome diversity challenges in your organization.
What is blind hiring?
What is blind hiring?
Blind hiring is a hiring tactic where the candidate's personal and demographic information is blocked out or hidden from the hiring manager. The idea is that all information that could potentially influence or cause bias among interviewers is made invisible in the hiring process.
A blind hiring process operates on the assumption that even the most well-meaning hiring manager is subtly influenced by, and draws conclusions from, details that they associate with a particular gender, race, ethnic origin, or class of people.
They might not even be aware of doing it. But these assumptions and conclusions, especially the unconscious ones, can lead to bias that affects and infects the hiring process.
Blind hiring, then, assumes that removing things like demographic, the candidate's name, ethnicity, and even gender can help create a more equitable hiring process. According to this tactic, it helps the hiring team remove any bias they might have. Right? Wrong.
There are more than a few problems with this. Let's get into some of the key problems with the blind hiring process.
Is blind recruitment effective?
Your talent acquisition team might be on a mission to improve workplace diversity. After all, it's no secret that corporate America has a diversity problem. In recent years, especially since the death of George Floyd, initiatives to build a more diverse workforce have ramped up.
But most companies find that the numbers and the sentiments and experiences of their employees indicate they still have work to do to create a diverse, equitable, and inclusive workplace for all.
The question: Is blind hiring an effective tactic for reaching that goal? Does blind hiring actually work?
Let's first look at an example from the Boston Symphony Orchestra in the 1960s (the 60s, yes, stay with me). In the 60s, the symphony orchestra required musicians to play behind a screen during their audition. The purpose? To see if blind auditions help eliminate gender bias.
So, what happened? The likelihood of selecting female musicians increased by 30%. And after 30-something years, women's representation in orchestras increased by 25% overall.
Research by Harvard Business Review shows the positive impact that anonymization can have on job applicants. After all, one study also found that "white-sounding" names get almost 50% more callbacks than those with "Black-sounding" names.
So anonymizing candidates do have positive results for more equitable resume screening. But anonymity alone isn't strong enough of a program to meaningfully diversify your workforce. In other words, blind hiring might get more of the diverse job candidates in your pipeline through the door. But does it eliminate hiring bias?
Well, no. First candidates have to get into your pipeline, and it turns out there is often bias built into the way candidates are sourced. For example, where are job openings posted and how are the job descriptions and qualifications worded?
In other words, are diverse, potentially-qualified individuals being invited or discouraged? Then, will diverse job candidates make it through the interview process without bias? Are there blind interviews, too?
Finally, an equally large and often unaddressed barrier to moving the needle on workforce diversity is what happens once a candidate is hired. Is your workplace culture inclusive and do people feel seen, valued, and respected for all that they bring to the table?
What mindsets, behaviors, and initiatives do you need to implement to create that deep sense of belonging in your workforce? Are you hiring for culture fit or culture add?
But there's another problem with blind hiring. It doesn't address helping hiring teams learn and grow in self-awareness, inclusive behaviors, or understanding. It tries to shield diverse people from bias but doesn't make it easier for them to show up as their whole selves in the workplace.
Blind hiring doesn't help managers or team members identify and unpack the biases they may hold. It doesn't help change behaviors on how to better lead a team inclusively. It doesn't allow for any sort of intentional, long-standing change that can help build a strong company culture and ultimately drive employee retention.
It's a tactic to get more diverse people in the door at the resume screening stage. But without more inclusive workplaces, will those diverse folks that were hired stick around?
Simply put, blind hiring alone isn't enough to move the needle on your diversity efforts. You need much more than that. Blind hiring practices alone aren't going to make a big dent in diversity initiatives. Let's get into the importance of a diverse workforce.
Why a diverse workplace is a must-have
The recruitment process is a complicated one, especially in today's world. With inflation on the rise and budgets tightening, decision-making is getting tougher. Having the right talent in place to quickly adapt and respond to change is even more important.
Hiring decisions are tough as it is already. But layered with the macroeconomic situation we're all facing, it's become that much more difficult. But when your organization is striving to stay one step ahead, diversity in the workplace is one area where you can't afford to cut corners. In fact, diversity in the workplace might be the one thing that gives your organization a competitive edge.
Let's just start off with some facts about diversity in the workplace:
5 tips to meaningfully hire diverse candidates
1. Examine where you're sourcing your candidates
If your candidate pool isn't diverse, it's likely you're getting a lot of homogeneous resumes in your applicant tracking system.
Think about how you're sourcing your candidates. Where are you publishing job postings? How are you partnering with organizations outside of your typical sourcing pools? Are you intentional about hiring from historically Black colleges (HBCs)? Have you widened your social media networks? How does workforce development fold into your talent strategy?
The best talent doesn't come from the same place. Make sure you're expanding your aperture when it comes to your talent pool.
2. Eliminate unnecessary hurdles
There are barriers to opportunity everywhere, even down to the job description.
Work with your talent acquisition team to examine what's actually needed for a specific role. For example, does that customer support position really require a traditional four-year degree? Do you need five years of experience to hire for an entry-level position?
3. Look beyond just work experience
I'm sure we've all hired someone before who looked perfect on paper. But then, when the person gets into the nitty-gritty of the job, things are different. Maybe there are some soft skills that are completely lacking. Or perhaps there's a mismatch in behaviors or mindsets that your organization is striving to cultivate as part of its culture.
Those cookie-cutter resumes may look nice. But look beyond just work experience.
How can you see the value in life experience that a candidate brings to the table? What are some soft skills that you simply can't just teach? Is the candidate coachable? Are they willing to learn and challenge themselves?
4. Train your managers to lead inclusively
As mentioned above, inclusive leadership wields incredible power over organizational success. Invest in your leaders and their inclusive leadership skills.
How are your leaders showing up inclusively for their teams? In what ways can you help your managers build psychological safety and trust with their team members?
5. Lead unconscious bias interview training
Let's say instead of just removing the candidate's information from their resume, you decide to teach your people behaviors and mindsets.
You invest in ways to help bring awareness to biases that many people don't even realize they have. You employ tactics — like coaching — to help your employees see differences as opportunities and not threats.
At BetterUp, our hiring teams all complete implicit bias training to participate in the hiring process. It helps to build life-long behaviors and habits that extend far beyond a one-on-one interview.
Meaningfully diversify your workforce with BetterUp
Hiring isn't easy. There are plenty of factors that influence how we hire, for both the good and the bad.
With BetterUp, you can meaningfully make progress to diversify your workforce and reach your diversity goals. With personalized support for diverse employees, and their managers, employees can experience more belonging and success while contributing and participating fully to help their teams succeed as well. Managers can learn and develop the skills of inclusive leadership that benefit everyone on their teams and across the organization.
Blind hiring might have more immediate results for things like screening candidates' resumes. But is it the key to creating a lasting impact? Probably not. Are you creating the change you want to see in your organization so it can thrive? Get started with BetterUp today.
Published September 23, 2022
Madeline is a writer, communicator, and storyteller who is passionate about using words to help drive positive change. She holds a bachelor's in English Creative Writing and Communication Studies and lives in Denver, Colorado. In her spare time, she's usually somewhere outside (preferably in the mountains) — and enjoys poetry and fiction.