Back to Blog
LGBTQIA+ folks still aren't comfortable bringing their full selves to work
August 25, 2022
- 5 min read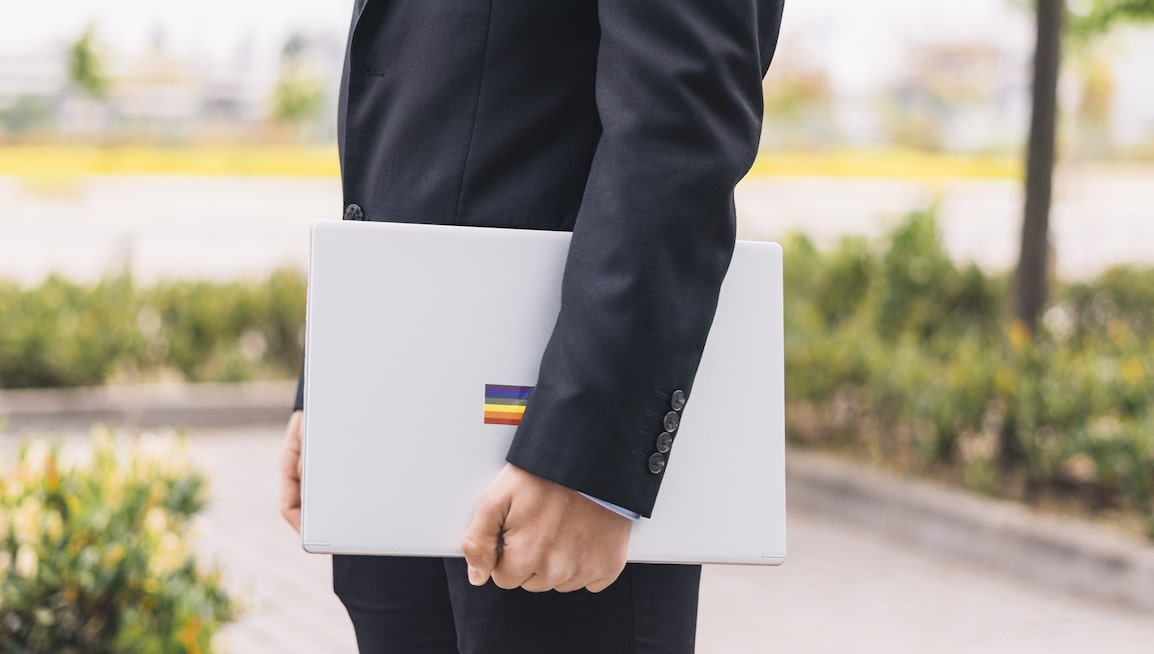 If you've ever sought advice on meeting someone new or interviewing for a new position at work, you most likely heard: "Just be yourself!" While we've all heard the seemingly sound advice, many in the LGBTQIA+ community aren't able to heed it.
While diversity in the workplace has become a priority for many organizations over the past several years, many LGBTQIA+ employees continue to face discrimination and discomfort.
We wanted to know more about how comfortable different groups feel in the workplace so we conducted a survey of 1301 people whose self-identified sexual orientation and background broke down as follows: 721 heterosexual participants, 522 LGBTQIA+ participants, of whom 182 identify as PoC.

What we discovered was that despite the last decade's progress towards equality in America, LGTBQIA+ folks still aren't comfortable being their full selves at work.
What does the data tell us?
Overall, we see that people aren't bringing their whole selves to work. People in our sample were an average of 21% less authentic at work compared to home, but the differences are more striking when we zoom in on sexual orientation. 77% of heterosexual participants said they show their authentic selves to people in their personal lives, but only 53% said the same about their work lives. Similarly, 73% of the LGBTQIA+ participants reported showing their authentic selves to people in their personal lives, but only 35% said the same about their work lives.

The disparity is worse among LGBTQIA+ of color. 69% of LGBTQIA+ of color said they show their authentic selves to people in their personal lives, while only 21% said they feel comfortable being themselves in their work lives.
There are a number of reasons why people within the LGBTQIA+ community may feel uncomfortable being their most authentic selves in the workplace.
The freedom to come out and stay out is still a barrier in the workplace. Research suggests coming out can be especially challenging for junior employees. Only one-third of LGBTQIA+ survey respondents below the level of senior manager reported being out with most of their colleagues.
As one person explained in the survey, "Being authentic once you've made it is easier than being authentic when you haven't."
And even among senior leaders, many remain in the closet. Of the LGBTQIA+ senior leaders surveyed, one in five is not broadly out at work.
Another barrier making it harder for LGBTQIA+ employees to be themselves is microaggressions. More than 60% of LGBTQIA+ respondents reported needing to correct colleagues' assumptions about their personal lives. And some LGBTQIA+ people experienced being misgendered, or referred to by a pronoun that does not accord with their gender identity.
In addition to being misgendered, some LGBTQIA+ respondents were also significantly more likely than other respondents to report hearing derogatory comments or jokes about people like them.
Unfortunately, an onslaught of anti-LGBTQIA+ legislation and policies give the sense that the world isn't becoming a safer place for LGBTQIA+ people any time soon. The recent Supreme Court decision on Roe v. Wade has many in the LGBTQIA+ community extremely uncomfortable. Justice Clarence Thomas wrote in a solo concurring opinion to overturn abortion rights that SCOTUS, "should reconsider all of this Court's substantive due process precedents, including…Obergefell," also saying, "We have a duty to 'correct the error' established in those precedents." The decision has far-reaching implications on healthcare, marriage, and employment in the workplace for LGBTQIA+ people.

Clearly, it's more important than ever for organizations to prioritize support for their LGBTQIA+ employees.
What's the solution?
Diversity is representation, but inclusion in the workplace means creating a sense of belonging. And with a sense of belonging, employees are more likely to be authentic.
Authenticity is in everyone's best interest, particularly an employer's. Companies that advocate for and encourage their employees to be themselves in the workplace, with sustainable diversity and inclusion initiatives, typically have greater-on-the-job efforts, higher productivity levels, and happier employees.
Improving the experiences of LGBTQIA+ employees also means staying connected. When employers make and keep commitments to stay connected, they are aware of the ongoing challenges of the community. Real inclusion means everyday interactions matter as much as organizational policies.
Published August 25, 2022