Back to Blog
10 employee engagement strategies to retain your top talent
August 1, 2022
- 22 min read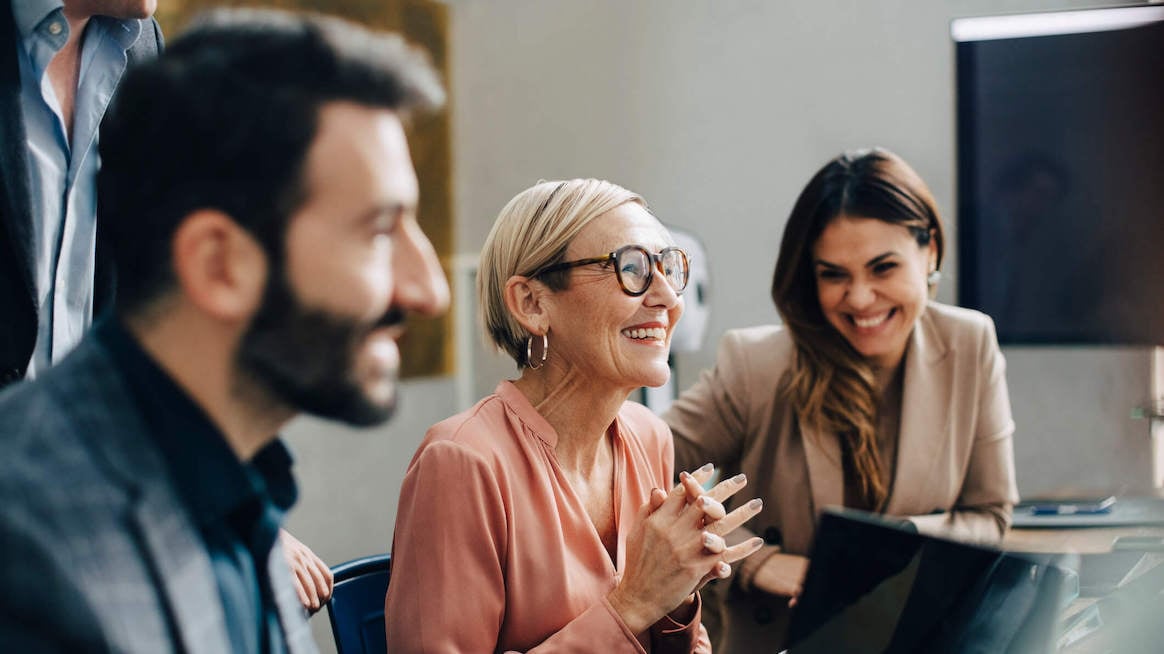 With a tight labor market and fast-moving change, things feel constantly in flux. Change is hard and has an impact on how your employees engage with your organization.
So for many (if not, all) companies, it's more important than ever to attract, retain, and engage top talent. But in a market where uncertainty and unknown loom ahead, it can feel especially challenging.
As such, it's critical companies do everything they can to boost retention. And that includes implementing the right employee engagement strategies. We know companies are also working to close the employee engagement gap. Gallup reports that only 36% of U.S. employees are engaged in their workplace. That's a massive segment of the workplace population that employers risk losing.
Employee engagement plays a huge role in retention. When employees are engaged with their work—and the company as a whole—they're more likely to stay. On the flip side, if they're disengaged and dissatisfied? They're more likely to leave for other opportunities.
But with the right investment in your employees' development, you can employ strategies that work. Even amid uncertainty and change, you can help your workforce tap into its full potential. It takes the right strategies but it helps deliver better business outcomes in the end.
So, the question is, how do you drive engagement to drive retention? And what are the best employee engagement strategies to keep top talent with your company? In what ways are you investing in your employees' career paths to keep them engaged and happy?
What are employee engagement strategies?
Before we jump into the most effective employee engagement and retention strategies, let's understand what they are.
As the name suggests, employee engagement is defined as how engaged employees are with their specific jobs and the company as a whole. Or, in other words, how invested they are in the work they're doing and the organization they're doing that work for.
As such, an employee engagement strategy is any strategy designed to increase that engagement.
Why are they important?
Why are having clear strategies to drive employee engagement important? Because employee engagement itself is important—particularly when it comes to business outcomes.
Few metrics are directly tied to a company's success more than employee engagement and retention. According to research from Gallup, companies with engaged employees are 23 percent more profitable, have 81 percent lower absenteeism, experience significantly lower employee turnover (18 percent lower for high turnover organizations and 43 percent lower for low turnover organizations), and are 18 percent more productive than companies with less engaged workforces. And according to research from Deloitte, when employee engagement increases, employee retention also increases—by up to 87 percent.
So, with the right employee engagement strategy, you can increase engagement across your company. You can also enjoy the positive business outcomes that go along with that increased employee engagement, including employee retention.
5 key components of good employee engagement strategies
Clearly, you need a strategy to increase employee engagement and job satisfaction. But what does an effective employee engagement strategy look like?
If you want your strategy to deal with employee disengagement challenges effectively, make sure to include the following:
A clear definition of how you're going to measure employee engagement
How you'd like to see those metrics improve
A clear definition of the tactics/strategies you plan to use to drive those improvements
A budget for your employee engagement initiatives
A timeline
10 effective employee engagement and retention strategies
You understand what an employee engagement strategy is. You understand why it's important—and what it needs to include. Now, let's jump into the employee engagement ideas you need to bring your strategy to life.
Put your company values front and center
Employees want to work for a company that has a purpose behind its work. And so, if you want your employees to be engaged with their work—and commit to your organization? Your company's mission, purpose, and core values are a great place to start.
Your company's mission and values tell your team members who you are as an organization. They define what you stand for, what's important, and what truly matters to your team. And they can be a great way to combat disengagement and build a more engaged, committed workforce.
Now, in order to leverage your company values to drive a culture of engagement? You need to put your values front and center. It's not enough to just say that something is part of your organization's core values. You have to make it a part of your company culture—and show your employees how you're bringing that value to life every day.
At BetterUp, we live by a set of core values and high-impact behaviors that guide every decision we make. It's not just words on a website. At regular one-on-ones with managers, employees are asked about recent actions that demonstrate our core values.
BetterUppers are regularly recognized during all-hands meetings for their work that demonstrated one (or more) of our high-impact behaviors. It's deeply woven into the fabric of who we are as a company, which means it's at the forefront of everything we do.
For example, let's say one of your core values is sustainability. You can't just say you're invested in sustainability, and not follow through on that value. (For example, by partnering with vendors that don't use sustainable practices)? That can backfire, causing employees to feel disillusioned—which can lead them to look for other opportunities.
On the flip side, if you make sustainability a lived value—for example, by making moves to lower your carbon footprint? Or only working with environmentally friendly partners?
That shows your employees you're actually committed to your values. And that, in turn, can make them more committed to your company. (This is especially true when you hire employees whose personal values align with your corporate values.)
So, if you want to increase engagement, start by putting your company's mission and values at the forefront of everything you do. Incorporate your values into your interviewing and onboarding processes. That way, new employees know exactly what you stand for.
Get your team involved with bringing your mission and values to life—and work your values into your daily work environment. As employees see your organization is truly committed to their values, their level of commitment will increase as well.
Create an employee recognition program
Few things will make an employee disengage faster than not being recognized for their efforts. So, if you want to increase employee engagement—and keep top talent with your company? Give them that recognition.
Create a recognition program for your team—and look for a variety of ways to deliver that recognition. For example, do you have a weekly check-in meeting with your team? Kick things off by sharing one thing each employee excelled at since your last meeting. Do you have a team that's gone above and beyond to deliver a project on time?
Make sure to thank them—and consider giving them a thank-you gift, like a gift card for a team dinner. You can also give employees opportunities to recognize each other. For example, on an employee recognition board (which, if you're managing remote employees, can be virtual).
The more you recognize your employees for their hard work, the more appreciated they'll feel. And the more engaged with and committed to your company they'll be as a result.
Invest in employee wellness
It doesn't matter how much an employee likes their job or your company. If they don't have a healthy work-life balance, eventually, they're going to hit burnout. And once they get to that point, there's a high likelihood that they'll start looking for other, less demanding opportunities.
That's why if you want to prioritize employee engagement and retention, you need to prioritize employee well-being.
Create an employee wellness plan that supports your employees' mental, physical, and emotional health. For example, you might upgrade your employee benefits to a package with better coverage for mental health services.
You might offer corporate-sponsored gym memberships or on-site wellness classes. (Think yoga or meditation.) Or you might give all employees a monthly health stipend—so they can invest in their wellness however they'd like.
The point is, that when you invest in your employees' health, you can help them feel their best. And when they feel they're best, it's easier for them to feel engaged with their work—and feel like they want to stay with your organization.
Provide professional development opportunities
When employees feel stuck or stagnant, it kills engagement. So, if you're looking to improve employee engagement—and keep talent with your company? Make sure you're providing plenty of professional development opportunities, like employee coaching.
Clearly define career paths and what it takes to move up in your company. Then, implement training programs to help your employees advance. Invest in learning and development. Provide coaching and mentorship opportunities.
An investment in coaching is an investment in your employees' mental fitness. A mentally fit workforce is better equipped to grow and develop within the organization. Our data shows teams with a strong mental fitness show increased productivity, higher retention, and increased job satisfaction.
The more you show your employees you're invested in their professional growth, the more they'll be invested in your company. And the more likely they'll be to stay with your company for the long run.
Foster stronger connections in the workplace
Employees need to feel engaged with their work. But they also need to feel engaged with their team. Which is why, if you want to drive engagement, a great strategy? Focusing on team building—and fostering stronger relationships between employees.
The science backs it up: we're on the brink of a connection crisis. In fact, 38% of workers report not being able to trust their colleagues. And beyond that, 43% report not feeling connected at work.
But what are the benefits of highly connected employees? What happens when companies invest in building and maintaining connections in the workplace? Well, the pros speak for themselves.
Our Connection Crisis Report data shows a 92% increase in professional growth, a 36% boost in employee well-being, and a 34% greater goal attainment.
Make sure employees have opportunities to connect with their co-workers. For example, you might offer company-sponsored events to help your teams bond, both in and out of work. (Like enrolling teams in communication training or giving them tickets to a sporting event.)
You might create channels on your chat platform around more fun, relationship-building conversations. (For example, a channel where they can share photos of their pets.) Or you might look for ways to incorporate more team building into your day-to-day operations. (Like kicking off all team meetings with a group check-in.) If your workforce is hybrid or virtual, there are plenty of virtual team-building activities, too.
Fostering strong team relationships is always important. But it's especially important if your organization has remote employees. It can be hard to build an emotional connection with remote work, so make sure to invest in extra team building for your remote workforce.
Set your new employees up for success with the right onboarding process
If new employees aren't set up for success in their new role, they're at a high risk of disengagement. And a high risk for turnover.
This is why onboarding is so important.
The right onboarding program can be a key employee engagement strategy. It gives new employees the tools they need to be successful from the get-go. And when they have what they need to be successful, it's easier for them to engage with their job, the team, and the organization as a whole.
So invest in your employee onboarding. Make sure you fully train new team members on everything they need to be successful—both in their new roles and at your organization. The more tools you give them for success from the beginning, the more likely they are to succeed. And the more successful they are in their new role? The more likely they are to stay in their new role.
Train your managers
There's an old saying "people don't leave jobs; they leave managers." And there's definitely some truth to that statement.
Even if an employee enjoys the work they're doing, if they're working for a challenging manager, it can make them feel disengaged. So, if you want to keep team members with your company? Invest in training your managers to be more effective.
How you train your managers will depend on what kind of training they need. For example, when you promote new managers, you may need to train them in the basics of people management. If you get feedback that a supervisor is micromanaging their team, you might give them training around autonomy in the workplace. If you have a manager that has a reputation for being difficult, you might train them to be kinder, show more respect at work, and build trust with their team.
When you invest in training your managers, they're better equipped to manage and support their people. And when people feel like they're properly managed and supported? They're more likely to be engaged with their manager, team, and role.
Ask your employees what they need to feel more engaged…
If you want to know how to increase employee engagement—and how to keep them in their jobs? Ask your employees.
Ask your team for feedback on their employee experience. Ask them what's working for them, what's not working for them, and what they'd like to see improved. And ask them in a variety of ways.
Send out anonymous engagement surveys. Ask for direct feedback during one-on-ones. Create a portal where employees can submit feedback directly in real-time.
The more opportunities you create for employees to give feedback, the more helpful feedback you'll receive. And that's feedback that you can use to create a more engaged workforce—and to keep that workforce with your organization.
…and then give it to them
Asking your employees for feedback is one part of the equation. But if you want that feedback to actually improve employee engagement and keep talent with your company? You need to act on it.
Take the feedback you receive from your employees and use it to make improvements that will increase engagement. For example, did you get feedback that your workplace lacks flexibility? Implement new policies to give more flexibility to your workers—like flexible hours or hybrid work options.
Or maybe you received feedback that your leadership team lacks transparency. In that situation, you might schedule an all-hands meeting. At the meeting, leadership can share their plans for more transparent communication in the future. You can also open the floor to questions from employees.
The point is, that feedback is only helpful to engagement and retention if you use it to make meaningful change. So make sure to use the feedback you receive to make real improvements to your organization.
Continually monitor employee engagement—and take action as necessary
An effective employee engagement strategy isn't a "one and done" type of situation. Your work isn't done once you see an uptick in engagement or retention. If you want to make a meaningful impact in the long term? Your strategy needs to be ongoing.
Once you've put your employee engagement tools and strategy, continue to monitor employee engagement—even after you've implemented your strategy. (And done so successfully!) That way, you can stay abreast of any potential issues—and fix them before they lead to employee turnover.
For example, let's say you implemented an employee recognition program—and engagement increased. Instead of trusting the program will continue to work, you'll want to continue to monitor engagement levels.
That way, if something changes—for example, you hire a new group of employees and they don't respond as well to your recognition methods? You can take immediate steps to fix the problem before your new hires jump ship.
How to implement employee engagement strategies
Now that you know some of the best strategies to drive engagement and increase retention at your company? Let's cover how to implement those strategies.
Some best practices you'll want to keep in mind when implementing employee engagement initiatives include:
Put metrics in place
Again, you can only gauge the success of your employee engagement strategies if you measure the results. So make sure to put metrics in place from the beginning.
How are you going to measure changes to employee engagement? For example, are you going to rely on engagement surveys? Or are you going to look at more traditional metrics, like absenteeism or employee productivity?
If you want your employee engagement strategies to be successful, define how you're going to measure success from the get-go. And then put the appropriate metrics in place to measure that success.
Look to your competitors
If you're struggling with employee engagement and high turnover, one of the best places to look for ideas about how to improve engagement? Companies that aren't struggling—and, more specifically, your competitors.
If you have competitors that are performing well and attracting and retaining top talent, look into what they're doing. This can give you insights into what you need to do to improve engagement at your own organization.
For example, do they offer more flexible work options? Do they have more competitive compensation packages? Do they offer perks or benefits your company doesn't? Seeing what other companies are doing differently can give you ideas about what in your organization needs to change. And you can use those insights to drive employee engagement.
Stay flexible and adaptable
You may have an employee engagement strategy that you think is a slam dunk. And it might dramatically increase your engagement levels. But then, at some point, it may stop working. This is why, if you're trying to improve employee engagement, staying flexible and adaptable is a must.
Commit to your employee engagement strategies but be willing to pivot if and when you realize it's no longer working. For example, your employee wellness program might have driven engagement at the beginning. But as your employees' health needs change, your program will need to change with it.
Or let's say your employee engagement surveys were delivering invaluable feedback. But lately, you've realized that it seems like your employees aren't giving their open, honest opinions. In that situation, you'd want to pivot your strategy.
For example, let's say you launch an employee feedback survey but see little engagement. You might consider making the survey anonymous to ensure employees feel safe providing feedback.
Your workforce is constantly evolving. And so, if you want your employee engagement strategies to continue to be successful, you need to be willing to evolve those strategies as well.
Use these employee engagement strategies to reduce turnover—and keep top talent with your company
With the right employee engagement strategies, you can reduce turnover. You can boost retention. And you can keep top talent with your organization.
Building a culture of engagement starts with investing in the potential of your workforce. At a foundational level, it's critical to make sure your employees see growth and development within your company.
BetterUp can help. With BetterUp, you can unlock employee engagement within your organization. The result? A mentally fit, well-equipped workforce designed to weather any bumps along the road. And better yet, your employees will want to stick around for a while. Together, we can build a better workforce.
Published August 1, 2022