Back to Blog
Innovations in coaching: Growth through connection for an evolving world of work
July 25, 2022
- 17 min read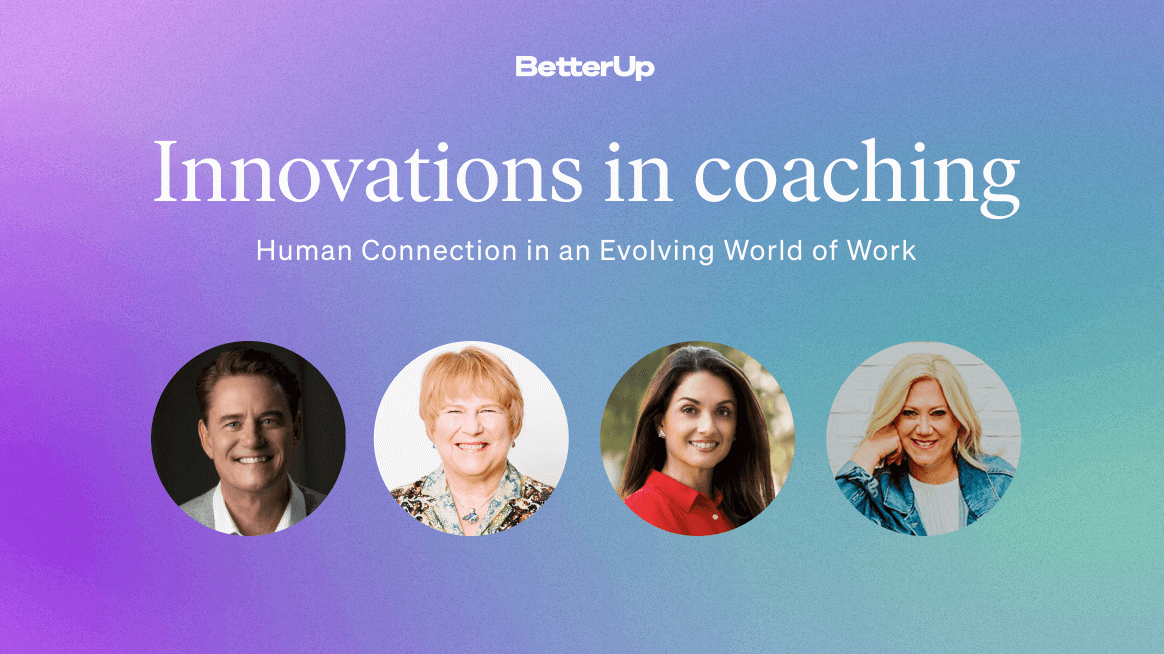 From humble beginnings 40 years ago, professional coaching has become one of the fastest growing industries in the world.
No longer reserved for C-suite executives, leaders increasingly recognize that coaching is a powerful resource that can benefit all employees. And the impact high-quality coaching has on individuals and organizations is measurable and meaningful.
Coaching is becoming something that is available and known and having an impact all over the world. It makes us all aware that it's such a small community on a very small planet. The impact we can have is huge.

Dr. Jeff Hull
Coaching delivers value in the moment and continues returning benefits over a career and lifetime. From increasing productivity and team performance to reducing stress and burnout, professional coaching is delivering business outcomes through professional development and personal growth. Coaching is a key tool for the way we work today — and tomorrow.

As the coaching profession grows in visibility and scale, it is maturing and evolving across multiple dimensions. Technological innovation, globalization, specialty coaching, demand for measurable results and evidence-based practices, and the growing need for ethical standards are some of the trends shaping the industry.
This month, BetterUp had the privilege of leading a discussion with industry luminaries about how coaching is innovating and evolving. We got their take on where professional coaching is headed, key focus areas as the market evolves, and the role technology will play in its future.
The panel included:
Introducing BetterUp Head of Coach Ethics: Dr. Kevin Ramotar PsyD.
Dr. Kevin Ramotar, BetterUp's new Head of Coach Ethics, moderated the discussion. We're thrilled to have Dr. Ramotar join our mission to help everyone live with greater clarity, purpose, and passion.
Dr. Ramotar has been a leader in integrating quality, technology, and service delivery to enhance physician and patient outcomes. As the Director of Quality and Patient Safety at the University of California health system, Dr. Ramotar was responsible for creating a culture and infrastructure for ethical compliance and quality.

In this newly created role, Dr. Ramotar will help BetterUp build our human transformation platform in an ethical, people-centric way, promoting rapid learning and innovation while honoring our values and upholding the highest standards for privacy and agency. He'll accomplish this by building on BetterUp's core values and developing and scaling ethical mindsets, behaviors, and practices within coaching and across the company.
(The following quotes have been edited for clarity.)
The pandemic heightened the need for coaching — and forged a stronger community
The biggest thing was that it was global, a shared experience. It busted open the idea that we're alone, or that we don't belong to one another, or that what one part of the world does doesn't have an impact on the other part.
- Karen Kimsey-House
The conversation began with panelists weighing in on how the pandemic affected the coaching industry. Around the globe, people are still picking up the pieces after two years of isolation, stress, and anxiety, but our panelists highlighted some silver linings to the crisis, as well.
It's one thing to be resilient on our own, but how can we band together in creative ways to support one another?
- Dr. Jacinta Jiménez
The panelists pointed to the way the crisis highlighted the value of human connection and made clear the need for individualized support. The value of coaching and individualized support came to the forefront when the working world was upended. Coaching didn't just survive, it truly thrived.
One thing it showed me is the importance of whole person leadership development. It's one thing to be a high performer, but we also need to thrive as human beings and leaders.

Dr. Jacinta Jiménez
They also talked about the way the increased demand combined with the constraints of lockdowns and isolation actually brought the coaching community together and made it more resilient. Coaches themselves had to recognize their own need for human connection and desire for connectedness. As a result, the industry became more global, more collaborative, and more innovative.
There were coaches from around the world sharing best practices, how to support each other, what we can learn from each other. A powerful community was born out of this very painful period.

Dr. Jeff Hull
Increased demand (and visibility) heightens the need for evidence-based coaching practices
As more organizations and individuals turn to coaching to help address critical business issues, they bring heightened attention to coaching methods and outcomes. Standardized practices and quantifiable outcomes are crucial for gaining acceptance and establishing the effectiveness of coaching. Developing standards and outcomes will build trust, credibility, and influence beyond the industry.
We have good science on coaching's effectiveness — from positive psychology, intrinsic motivation, self-determination theory, neuroscience applications, and health and wellness studies. What took a hundred years for the acceptance of psychology and psychotherapy can be accelerated and expanded for the coaching profession.

Dr. Jeff Hull
Our panel of experts shared key insights about how promoting evidence-based coaching practices can help internal stakeholders champion coaching within their organizations, calibrate expectations, and align coaching with organizational objectives for maximum impact.
We're helping our clients build the business case, but they need to go back and sell it as well. We need to help organizations assess their readiness for coaching and make sure it's the best application.

Renée Robertson
Panelists also talked about how coaching standards have evolved with changing times, needs, and expectations. As Dr. Jimenez pointed out, coaching has had these inflection points. First it was the wild west. Then ICF came and set some standards. Now it's another inflection and industry leaders have the opportunity to come together on standards for quality and ethical, culturally sensitive coaching.
All of us in the profession have a responsibility to respect each other's different approaches. But to also codify together what we believe represents a quality coaching engagement so that organizations or consumers have something to rely on.

Karen Kimsey-House
How technological innovation is shaping the future of coaching
As the inventors of digital coaching, we've seen firsthand how technology can expand the scale, quality, and accessibility of professional coaching. It has already changed where and how coaching can be delivered, paving the way for many more people to experience the power of coaching. More people have access now, people who may never have thought about having a coach before or affording it.
What Dr. Jeff Hull terms a "tsunami of technology" has been and continues to be a powerful accelerator for the industry.
In terms of effectiveness, research shows that human-plus-tech beats purely human in very specific, goal oriented coaching. It tells all of us that if we want to remain relevant, we're gonna have to step it up and get into some of the more existential questions leaders and others have.

Dr. Jeff Hull
For coaches, rapid technological innovation also poses unique challenges. Consider how several parts of the coaching process can now be at least partially automated or managed by AI. For example, administering and scoring assessments, scheduling sessions, and nudging follow-up actions.
On one hand, this frees up valuable coaching time and attention and can result in better execution of that portion. On the other hand, for coaches, removing the human from any part of the coaching process challenges the way they have practiced. It can be disorienting or unwelcome.
We don't need to be running out afraid of the app that's gonna replace us. But I do think that it behooves all of us as coaches to step up and think about broader conversations around purpose and meaning.

Dr. Jeff Hull
Our expert coach-panelists shared their perspectives on the role they see technology playing in shaping the industry's future. The panelists also discussed what roles human coaches should play moving forward and how coaches might use technology to advance the practice itself.
As coaches, we need to realize that the technology isn't going to communicate the impact of the insights or interpret the data. It's the coach. So we have this opportunity to really get good at understanding the data, explaining the findings, and demonstrating the value of the coaching engagement.
- Renée Robertson
As advanced technology proves effective against some of the more mundane aspects of habit change and goal achievement, coaches will need to refocus on where they add unique value. Rather than argue against where technology is taking a role, coaches can double down on the human skills and experience they offer, especially related to the bigger questions of meaning, purpose, and motivation.
While tech is peeling off some of the more rote aspects of coaching, it also adds this incredible opportunity for coaches to augment the craft to be more effective and create more impact.
I can see AI being a "mentor in your pocket" giving you rapid feedback for coach skill development. You develop yourself quicker because, for example, you get instant conversation analytics. So much can be unlocked when technology is done in a very thoughtful, culturally sensitive, ethical, and high quality way.

Dr. Jacinta Jimenez
Ethics will play an expanding role as the industry grows
As coaching rapidly expands, ethical frameworks around data privacy, boundaries, confidentiality, conflicts of interest, and other areas must be developed to ensure it remains a trusted partnership.
In a world of misinformation and issues with data security, it's nerve-wracking to go sit down with another human, especially on a digital platform, and share your heart. Having clear understanding makes that easier and more conducive to more people being open and willing and excited to try coaching.

Dr. Jacinta Jiménez
Our panelists highlighted how the globalization of coaching is affecting the development of ethical standards, including the new challenges that come with technological innovation.
They affirmed how critical and essential it is to honor the trust that those being coached extend to us. That responsibility to be clear on what is being offered and to deliver with integrity against that promise was a through-line. Our panelists agreed that it is a responsibility that exists for both the individual coach and the broader coach community.
The responsibility exists to temper our enthusiasm and make sure we're grounded on our promise. That we stand behind it with either the experience, research, or evidence to support the transformation we're promising. That's the integrity that we all need and we need to stand behind it together.
- Karen Kimsey-House
Appreciating how far we have come
As the conversation drew to a close, the panelists reflected on how the industry has evolved and how much greater its impact — the impact of coaches individually and collectively — on peoples' lives everywhere. Panelists talked about key developments that will drive its future and even gratitude for the ways coaching is affecting positive change in our world.
Coaching has been entering more and more organizations, but now it has accelerated. It incorporates the human along with the business and helps these organizations build thriving cultures where everyone can show up and bring our best selves to work.

Renée Robertson
Coaching is helping us build a brighter future
We'd like to thank all of our panelists for their insights and contributions.
While the future is never perfectly clear, we are thrilled to be part of the innovations and developments in the coaching space, and we are honored to help lead the industry forward.
Through over 1 million coaching sessions, we've seen firsthand the positive impact coaching can have for individuals and organizations. People come together through human connection. As Dr. Jacinta Jimenez points out, the magic that is the art and science of coaching unlocks so much. When you have coaching, you show up differently and that has a ripple effect on everyone around you.
Coaching is a critical component for human transformation, helping people around the world work, perform, and live with more clarity, purpose, and passion. And we're only scratching the surface when it comes to how coaching can help impact the world for good. If more people become more aware of their inner landscape, imagine what could happen.
What excites me most about coaching is that people are learning the practice of it, not just as a profession, but as a way of being and acting in the world. That is just beyond thrilling to me, to see it grow like this.

Karen Kimsey-House
Published July 25, 2022
Julie is BetterUp's Vice President of Network Operations where she oversees all aspects of the global Coach network including operations, experience, development, support and community. Julie has over 20 years of broad global Fortune 100 executive experience and in 2019 was recognized as one of Arizona's Most Outstanding Women in Business and in 2020 as one of the Most Influential Women in Arizona Business.