Back to Blog
15 career coaching topics to explore with your coach
October 5, 2022
- 14 min read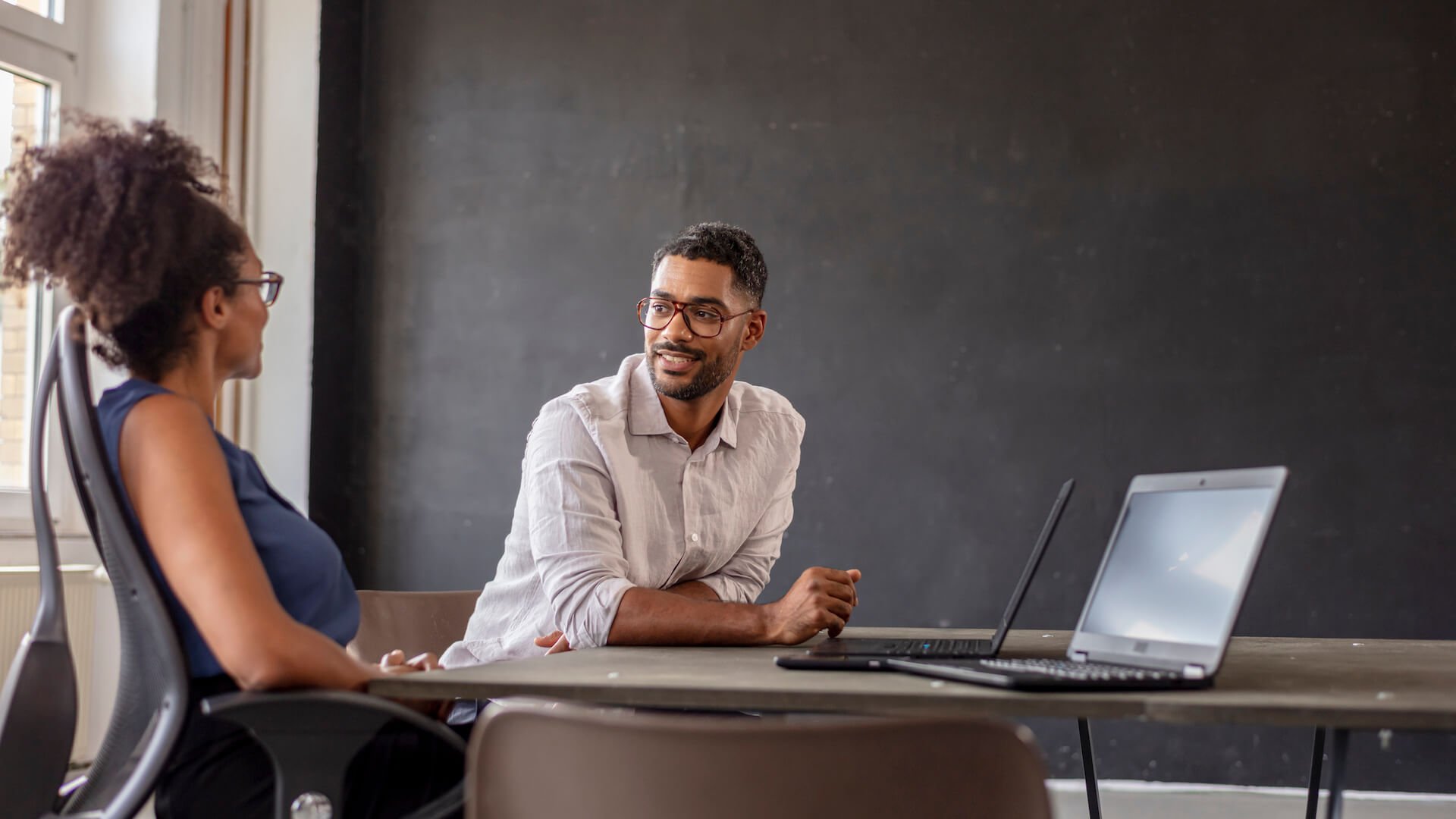 If you're the type of person whose mind goes blank when someone asks you what you did last week, you're not alone. But to get the most out of your career coaching session, it's important to have an idea of what you'd like to discuss. In the moment, it can be hard to think of relevant topics that can help you get the most of out of your session. And in reality, many people aren't sure exactly where to start in their first coaching session.
For organizations, it's important your employees understand they have autonomy with where they take their career coaching session. But it might take some education and awareness to help build that coaching muscle with your workforce. Especially in a fast-changing world of work, your employees' career coaching sessions won't be uniform. In order to reap the organizational benefits of coaching, your employees should understand what topics are available to them.
What does career coaching include?
The good news is that career coaching can take a variety of forms, and there's no wrong place to start. There's a wide range of topics you could address with your coach. Try starting with where you want to go, where you are right now, or you can just see where the session takes you.
If you're introducing a career coaching program to your team, you can help them get started on the right foot with some prompts. They could start with their latest performance review, a skill that they'd like to learn, or an open role that they're interested in applying for.
If you're still stuck, here are 15 career coaching topics to start your next coaching session:
Career coaching topics:
Work/life balance
Career growth
Setting boundaries at work
Communication skills
Performance coaching
Inner Work®
Mental fitness
Networking and developing a personal brand
Public speaking
New manager coaching
Limiting beliefs
Upskilling
Career change
Performance reviews
Giving and receiving feedback
1. Work/life balance
Finding (and improving) work-life balance has always been important. However, as teams settle into the new normal of remote and hybrid work, this concern has become top of mind for almost everyone. For those who juggle work and caregiving responsibilities, it can seem like balance is impossible. A career coach can help you start to reframe the relationship between work and home (without sacrificing your own well-being).
2. Career growth
Career development isn't always a linear path. If you're interested in uncovering and exploring what your next step is, a career coach can help you do this strategically. You can put together a career path, identify gaps in your current skill set, and set goals along the way.
3. Setting boundaries at work
Often, people who are passionate about what they do have a difficult time setting boundaries. However, boundaries are a key part of job satisfaction and having a sustainable work/life balance. You can practice conversations, like requesting time off or renegotiating expectations with your manager.
4. Communication skills
Strong communication skills can help you be more effective in any role — even if verbal communication isn't a big part of your day-to-day. Career coaches can help you develop your interpersonal skills. This could have a big influence on your selling skills, ability to collaborate, and cut down on the number of mistakes you make at work.
5. Performance coaching
Are there areas of your job where you feel stuck or overwhelmed? Performance coaching can help you identify how to create systems and routines that enhance productivity. Gaining insight into your strengths and areas for improvement can help you see your work with the objectivity it takes to grow.
6. Inner Work®
We do our best work when we take the time for the internal processes that make us whole. At BetterUp, we call this Inner Work®. Coaching helps develop this rich inner self by putting us in touch with our true patterns, needs, and goals.
7. Mental fitness
Mental fitness has a direct impact on your well-being, but it can also make you more effective at work. Being mentally fit means that you're less reactive, more mindful, more willing to take risks, and more confident. You're also better able to question assumptions and look at alternative explanations or solutions for a given situation.
8. Networking
Ever attended a networking event, only to be left unsure of what you were actually supposed to do there? The good news is that networking is a skill that can be developed. Coaches can help you build your personal brand — on and offline — building your professional network and opening the way for more opportunities.
9. Public speaking
The act of speaking to a group of people isn't inherently dangerous — yet it's one of the most common fears that people have. Coaching can help you understand why you're afraid of public speaking and learn to overcome it. A career coach can also help you become a more effective and engaging speaker or presenter.
10. New manager coaching
Being a people manager isn't easy — but stepping into a new manager role can feel overwhelming. Many managers find that the skills that helped them be great individual contributors don't always help them connect with their team members. Leadership coaching for new managers can help them feel confident as they step into the next level in their careers.
11. Limiting beliefs
Sometimes, our past experiences or ways of thinking begin to hold us back in subtle ways. This can be a great source of frustration, and it's not easy to spot on your own. Career coaching can be the missing key to professional development. You might be able to spot patterns or hidden talents you didn't know how to leverage before.
12. Skill acquisition
An important part of goal setting is determining the steps you need to take to get where you want to go. Chances are, any major shift in a career is going to take some upskilling. Many people use their coaching conversations to gain clarity about their career goals and pinpoint the skills they'll need to master to get there.
13. Career change
Because we identify so much with our work, shifting careers can be a complicated time in our professional lives. Coaching is an ideal place to explore what you want from a career change and how to best go about achieving it. If you haven't started your job search, a coach can help you reframe your experience and identify transferable skills.
14. Performance reviews
Coaching sessions are great spaces to prepare for upcoming performance reviews. Since many people tend to be nervous about them, you can review your self-evaluation with your coach. Sometimes we have blind spots, and sometimes we don't give ourselves enough credit.
15. Giving and receiving feedback
Feedback is critical to a workplace, but not everyone feels comfortable with it — although almost everyone wishes they had more of it. You can learn to become a pro at both giving and receiving feedback. This skill could singlehandedly transform both your effectiveness and your workplace culture.
How to choose a coaching topic
You don't have to know what you'll talk about when you book (or even start) your coaching session, but it can help you make the most of your time. You may want to take a few minutes before the start of your coaching session to jot down some thoughts and your intention for the session. This is a good practice to get into, whether you're completing a single session or a series of sessions around a topic.
Typically, there are two factors to weigh when you start a coaching session. You'll work with a certain type of coach (like a career coach, communication coach, or DEI coach around a specific topic). But you'll also come to each session with your current experience. You can root whatever is top of your mind into the larger conversation you're having with your coach.
For example, you might be feeling frustrated and overwhelmed at the time you're scheduled to have your coaching session. You can share your feelings with your coach, then use that as a jumping-off point for a broader conversation (say, on work/life balance, setting boundaries, or time management).
As someone that often starts her coaching calls in a very "stream of consciousness" way, I've noticed that coaches are usually very good at determining a focus for the conversation. In most of my coaching sessions, we're able to pull out the main themes from whatever I've said in the first few minutes of the call, then spend the rest of the time creating an action plan.
How good career coaching topics impact the quality of a session
A career can span decades. Given that, it makes sense that what you want from a career coaching session will also change over time. There's no wrong way to approach a session, and it's totally fine to show up if you're not sure what you're planning to talk about. Sometimes coming to the table without an agenda can lead to the best conversations.
Certain topics lend themselves to more concrete items to be covered in a coaching session. For example, if you're looking to build decision making skills, you'll likely discuss the pros and cons of the options before you, or a strategy to make good decisions quickly. If your focus is career exploration, however, it may not help you to start with a narrow focus. You might want to discuss broader topics, like working style and values alignment, before you decide on an action plan.
Regardless of your goals in coaching, 30 minutes — or even an hour — goes fast. You can make the most of your time with your coach by having a broad question in mind and a specific takeaway for the session. Here are a few examples:
Work/life balance: "I feel tired and frustrated. I'm always working, and I know I'd feel better if I made time for self-care, but it feels like there's no time. Can we come up with some self-care practices that don't take too much time?"
Career development: "I really want to get promoted, but I have no idea what that takes. Can we take a look at my last performance review and create some ways that I can improve?"
Giving and receiving feedback: "I'm a new manager, and I have my first one-on-ones coming up with my new team. How can I give them valuable feedback that makes the most of our time together — and doesn't leave them feeling disempowered?"
Final thoughts
There really isn't any topic that can't be covered in a career coaching session. The only constraint is how you want to use your time with your coach. Think of these sessions as moments to pause and check your career roadmap. You may not get where you want to go in an hour, but you can ensure that you're on the right track.
Published October 5, 2022